2018 SaaS Marketing Plan: Strategies For The Coming Year
More than 66% of SaaS companies experience annual churn rates of 5% or higher.
Was your 2017 churn rate higher than you'd like? Well, 2018 is upon us, and there's no reason why you can't turn those numbers around. To decrease churn rates and build your brand for long-term success, you must enact a SaaS marketing strategy that is up with the times.
In this article, we'll discuss the most current methods being employed by some of the biggest software-as-a-service companies in the world. And the beauty is, you can enact these strategies to great success on your own.
As we dive into the meat and potatoes, let's recognize which SaaS companies absolutely killed it in 2017.
What Are They Doing So Well?
The road to success begins by studying the success of others. Here are a few SaaS companies that give us a ton of inspiration for our own businesses moving forward.
E-commerce has come a long way and Shopify is leading the charge. Not only has the company developed an intuitive platform that makes the process of building a store simple for even the less experienced ecommerce pros, but Shopify has cemented itself as a massive authority figure in its niche through stellar content marketing.
This effort is amplified by its ecommerce marketing blog—and let's just say, this isn't your grandfather's corporate blog. Shopify has invested a lot of creative energy in delivering content that's high in quality, shareability, and actionability.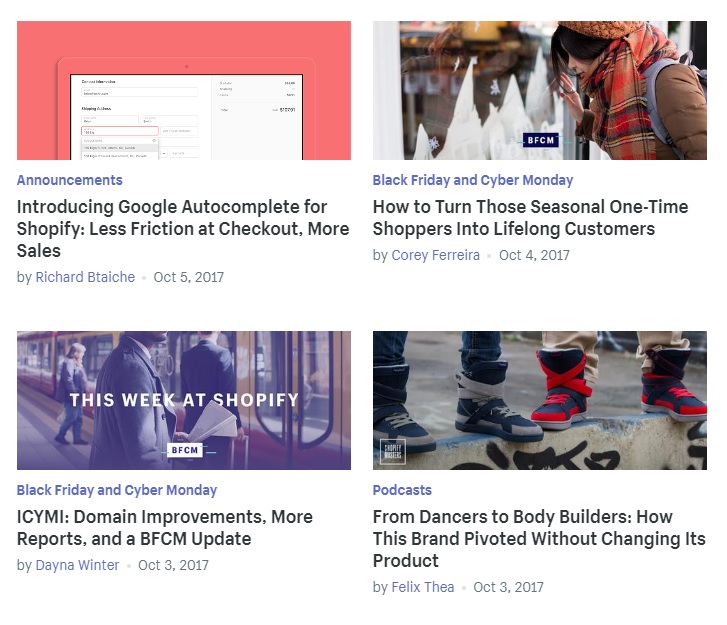 Topics range from ICYMI posts to inspiring case studies about brands who've grown to success using Shopify. To this end, the company strikes a perfect balance between promoting their services and providing value to the reader.
This robust social media marketing tool takes a page from Shopify's playbook. They use their blog as a vehicle to help build authority in the online marketing/social media marketing niche. Additionally, Buffer addresses common questions and issues that consumers might have about products and social media marketing at large.
The blog is quite extensive. It's organized into different subject areas which are easily navigable, targeting topics ranging from productivity to advanced social media tactics.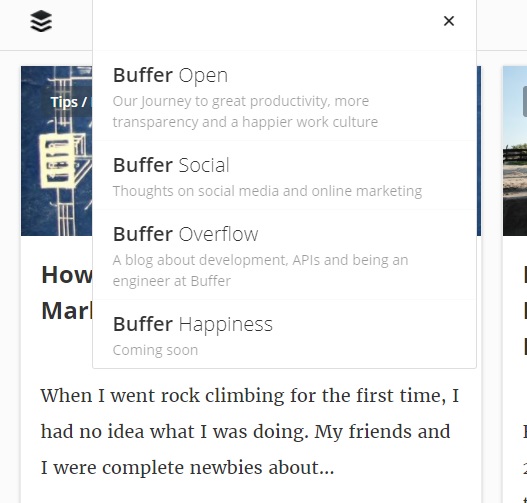 Buffer certainly positions themselves as a one stop shop for all your social media marketing information. Combine this with their fantastic social media automation tools and Buffer is absolutely killing it.
Exponea has experienced 214% growth over the past six months. The London-based marketing cloud platform is exploding, largely due to their ample case studies and testimonials. These are made into blog posts that get viewed by prospective clients.
Rather than simply calling this page a "blog," Exponea instead calls it "Success Stories."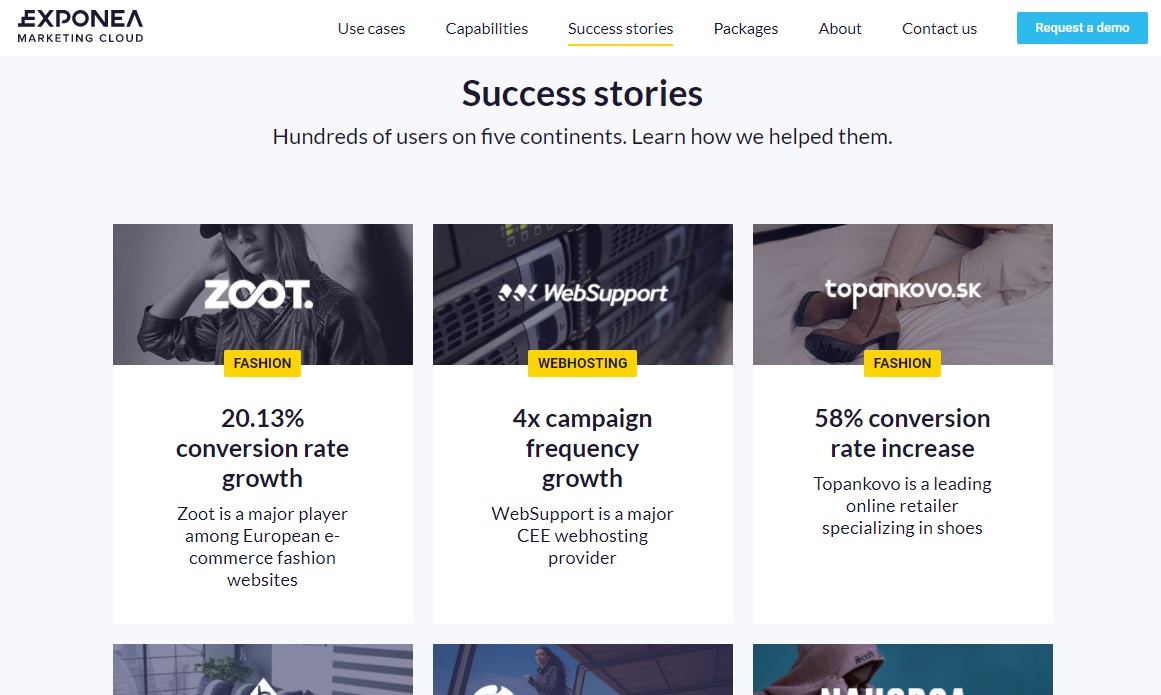 They do two things really well here: a) they infuse stories from all over Europe, which is important since Exponea targets businesses across the continent, and, b) they use examples from companies of many industries. In the screenshot above you can see listings from web hosting and fashion companies.
These glorified testimonials are endless on the company's site, and they're undoubtedly helping the brand grow at a sizeable rate.
When Jonathan Bentz started working at Netrepid, their website had failed to generate a single lead, or at least it seemed that way. But within a two year period the cloud infrastructure hosting company found success through three avenues: SEO, referral sites, and direct traffic.
These three avenues are intrinsically tied together. For example, some of Netrepid's direct traffic comes from sites of businesses they have acquired over time—effectively turning those sites into referrers. Then they turn that traffic into paid customers by providing high-quality, SEO optimized content that helps convert the traffic.
Netrepid also uses industry-relevant referring sites. In their niche, which is the tech sector, there are tons of Web portals with service provider directories. They were able to leverage these sites for lead generation, primarily among small business clients.
Now that we've introduced a few titans of SaaS, let's get into the nut and bolts of what you can do to succeed.
1.SaaS Free Trial
Free trials are a major component of any SaaS company's marketing plan. If done right, it can be a huge lead generator. If done wrong, it can be a huge waste of time and ad dollars.
The key to picking a high converting SaaS free trial? Research and testing. But there's another facet that's hugely important… simplifying the onboarding process.
By removing barriers to entry—i.e. Credit card input, complicated sign-up forms, unnecessary or ineffective qualifying questions—you can take your free trial signups to new heights. Kissmetrics ran a study to uncover what high-converting websites do differently, and found that the best conversions come from simplified signup forms.
Simplification also means using simplified copy to articulate the call to action. My favorite is Aweber's free trial page.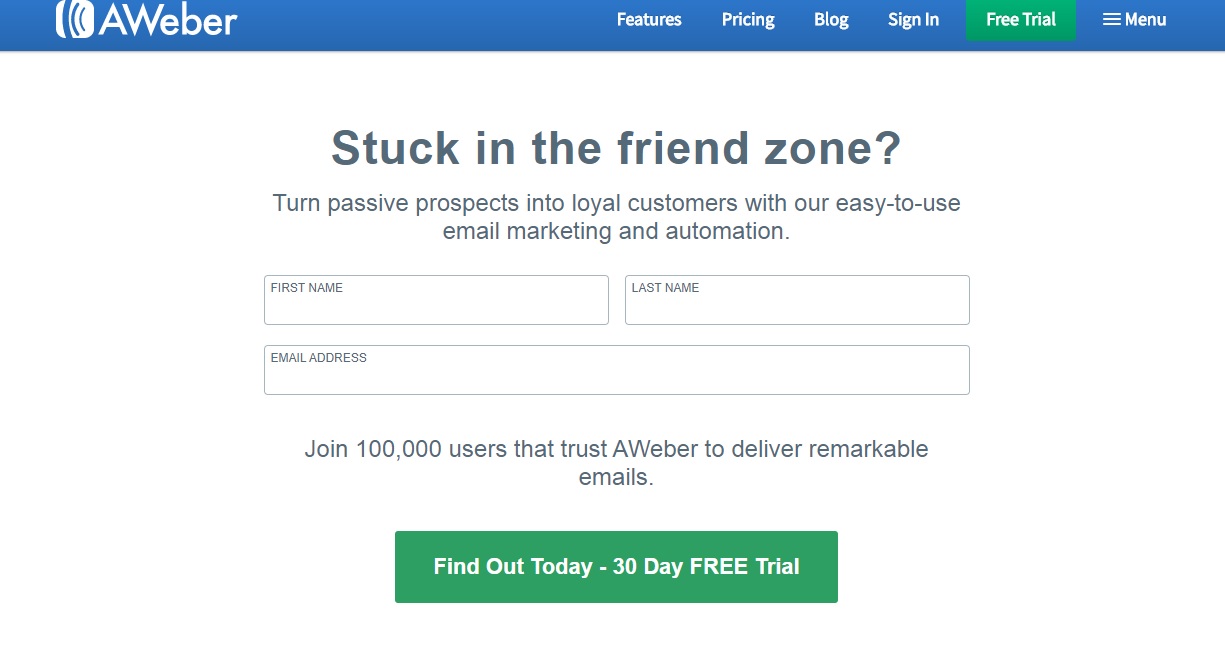 There's nothing wrong with making your copy a bit playful. Aweber's is certainly that. But it's also important to note that they're using only 20-40 words on the entire page. When it comes to lead generation, less copy is oftentimes more valuable to converting the free trial offer.
Even if you're SaaS product is new to the market, don't feel like you have to write a novel-length introduction to convert it. Focus on conciseness, and use numbers. Yes, when you display numbers you drive conversions, especially through your headlines.
A great example of this comes from Basecamp, formerly named 37signals. They tested a series of headlines for their Highrise product, and found that the most conversions came from this copy…

They improved their total conversions by 30% with this headline! Their lowest converting headline was "Start a HighRise Account."
The lesson here is quite simple, customers don't want to dig too deeply to figure out what your product is all about. If you can't sum up your SaaS product in a short headline, you'll likely miss out on many conversion opportunities.
Asking for your customers' credit card information is tempting, but could be a shortsighted move on your part.
Year after year, internet consumers are less and less trusting of companies they barely know. This means that asking for credit card information might be a mistake, especially if your SaaS company is new on the scene.
Instead, as SaaS expert Lincoln Murphy advocates, you should make the free trial offer as noncommittal as possible…
"I'd say putting up a CC-wall—especially in a B2B setting—is even more a non-starter than it was way back 2 years ago."
Another important consideration is the length of your free trial. There are generally two schools of thought on this:
Short trials (7-days or so) can force customers to have to act more quickly to purchase your product, raising their sense of urgency and necessity.
Long trials (14-days or more) can give you more qualified customers because they've had sufficient time to decide how they feel about your product.
What's the best answer? Split test and see what converts better for your SaaS product. According to one survey, nearly half of SaaS companies implement a 30-day free trial while
around 18% use a two week free trial. In other words, there's not a clear correct answer.
Weigh your customer acquisition cost against your conversion rate to determine whether the length of your free trial is cost effective.
NOTE: decreasing the length of your free trial means that you're supporting the customer's use financially for less time, quickening the sales cycle. This can result in faster sales but potentially fewer conversions, as we stated above.
Without going too in depth about SaaS free trials (that's for another article), let's summarize the main takeaways.
ALWAYS be testing
OPTIMIZE your free trial offers.
'Nuff said.
2. Email Marketing
When leads sign-up for your email list or create a free account, it's obviously a good sign. They're curious, sure. But are they really willing to buy your high ticket product? Probably not yet. This is where email marketing comes into play.
SaaS brands new and old succeed with email marketing campaigns as a catalyst for turning lukewarm audiences into paid buyers. They excel by providing a helping hand to consumers looking to learn the ins and outs of the product. This "how-to" information MUST be easily digestible and engaging. You want to give the reader value and prove why they need your service, but it doesn't hurt to add a personal touch.
Take this example from BlankPage, a service for writers who are struggling to finish their works (been there).
Notice how it makes the personal connection from the getgo, addressing writers "like you."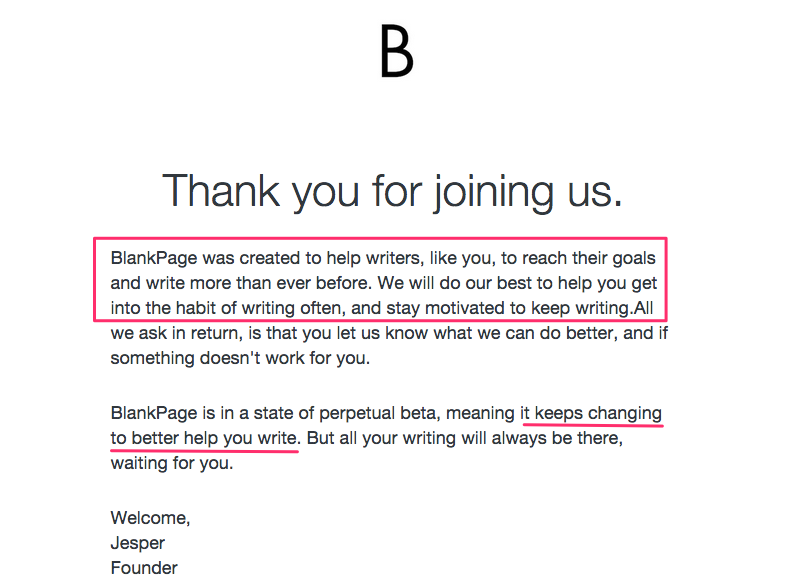 This kind of language elicits a very human response, helping warm the reader to your service even if they know very little about it.
And of course there's the "how-to" approach we mentioned. This, in tandem with adding a human touch, works really well for less established SaaS brands who are trying to explain their service's utility to the consumer.
Look what InVision does…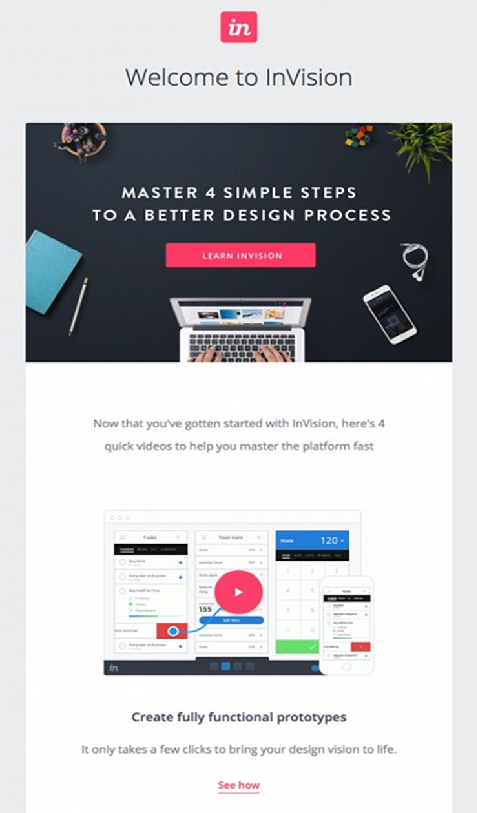 They introduce "4 quick videos" to help tutorialize their platform. And these videos don't even have to be of the highest production value, you can use a program like Screencast-o-matic to show your product in action.
3. Engaging Website Design
If there's one thing we know for certain, 2018 will be an even greater struggle to gain customers' attention. Not only does your email marketing have to produce engagement, so does your website.
Here are some examples of SaaS sites that give you no choice other than to give them page time.
Landing page building software Builderall plays a lengthy series of videos to new customers, utilizing screencasts. They introduce the series in a creative fashion, having a guy trot out onto the page and point to the area on the screen where you access the videos. Yes, it sounds a bit cheesy but it can't help to draw your attention. And being up against the likes of ClickFunnels and Leadpages in the landing page world, Builderall has to step things up in the marketing area.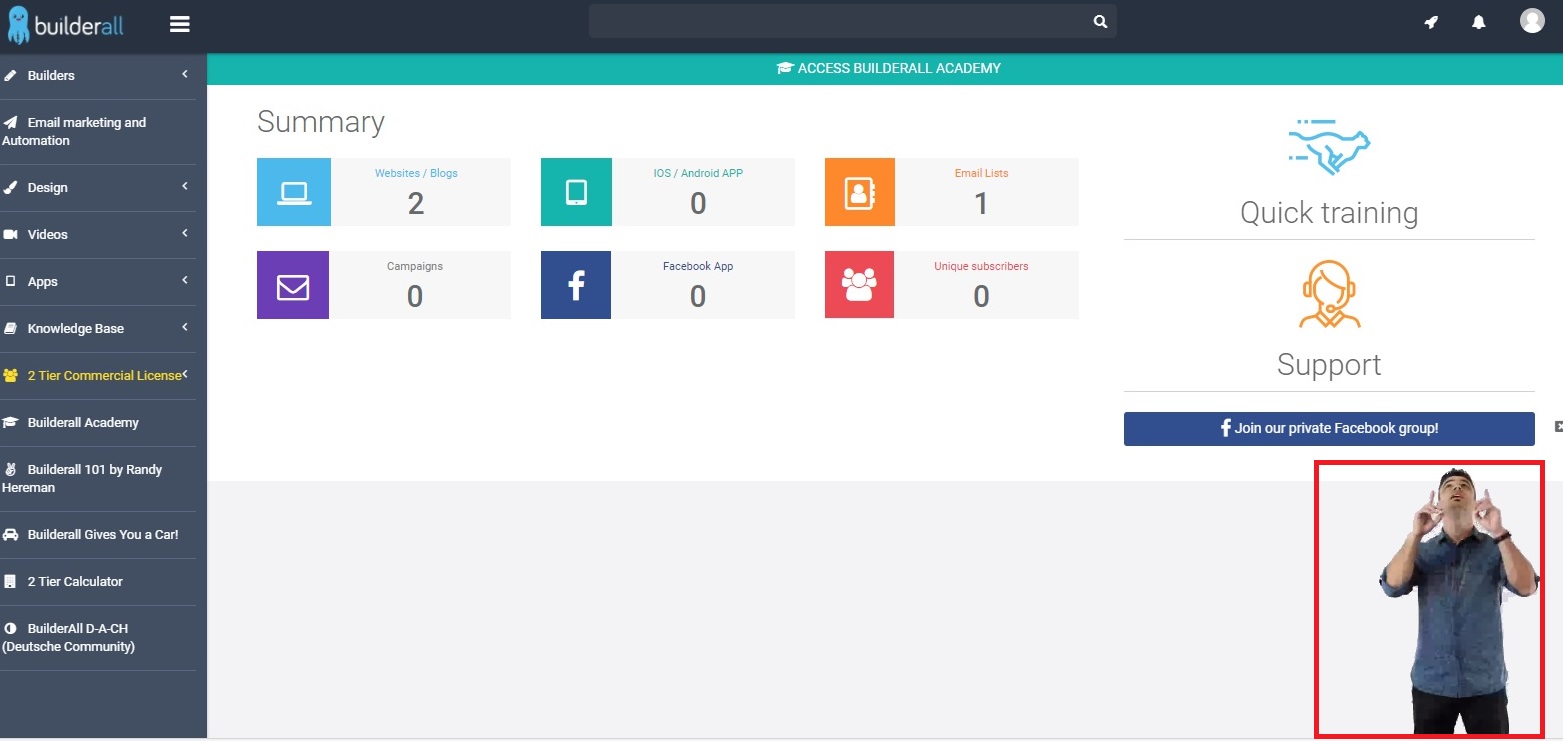 Admittedly, their dashboard and interface takes a bit of getting used to. But this is why the character in the corner works so well. He's unexpected, commands our attention, and provides value in showing us how to navigate the service.
Then for users who choose to purchase the product, Builderall sweetens the deal a little more…
4. SAASS Affiliate Programs
This is a strategy that's proven to pay dividends for many SaaS companies over the years. With such a large amount of platforms available for people to drive traffic to affiliate offers today (Facebook ads, YouTube, Bing ads, AdWords, etc.) there are an infinite amount of channels to reach potential customers.
How does an affiliate program work? Simply put, if a customer enjoys your product and wants to promote it to others, you provide them with an affiliate link. When others purchase your product from that link, the customer who gave them the link earns a commission. It's basically a way of incentivizing your customers to refer more people to your brand.
Setting a commission rate isn't an exact science. You'll have to analyze your attribution models to determine the worth of each referral. Factors like lifetime value and their likelihood of making multiple purchases are two questions that could be asked, as well as the likelihood that they themselves will become referrers down the road.
So what affiliate programs are currently killing it for their SaaS brands? Well, a top contender is none other than the aforementioned Builderall. The landing page/website builder has a two-tier affiliate program, earning referrers an amazing 100% commission for the first month of use and a recurring 30% commission for each subsequent month that the person is signed up. Best of all, if your referred customer becomes an affiliate then you will earn another 30% per month from recurring subscriptions they generate.
Builderall's generosity has made them increasingly popular throughout 2017, largely because of their affiliate program.

It's a valuable lesson for any new brand trying to pierce their way into a competitive market. Incentivizing referrals can help your brand explode like wildfire.
5. SAAS Integrations
The ability of a SaaS product to integrate with third party products is more crucial in 2018 than at anytime previously. Why? Because of the cloud.
Lincoln Murphy believes that everyone's move to "the cloud" will spell doomsday for SaaS vendors who aren't integrating with other products. Nowadays consumers want a one-stop-shop—one location for all their sign-ins and one easily navigable dashboard that stores all their information.
For those who are fans of WordPress… what is the thing you enjoy most about that CMS? I'm sure many will say it's the convenience of integrating thousands of plugins onto your dashboard rather seamlessly—don't try to install literally thousands on a site, you'll have some serious page speed issues, but you get our drift.
From contact forms to email autoresponders to Yoast, there aren't many website tools that aren't available as WordPress plugins. Users can even build their own WordPress plugins rather easily. WordPress has become a go-to CMS largely thanks to their embrace of the one stop shop approach, giving users all the important tools they need in one convenient dashboard.
Sure, it's easy to look at WordPress and say "well it's a no-brainer for them… they're a website builder who relies on third-party integrations to function."
Fair. But SaaS integrations can be found in many forms. We see this all the time with Google Apps, which can integrate with not only websites but with programs like Salesforce.
Do your due diligence in the research stage and begin reaching out to land your ideal integration.
6. SEO for SAAS
SEO is dead, right? Wrong. It's still alive and well. It's just not the same as it was 5 or 10 years back. Today's SEO requires a more refined, user-centric approach to defeat the advanced Google algorithms.
For a burgeoning SaaS company looking to shoot up the SERPs, here is your playbook to success.
Brands who succeed do so by building authority. Pick your channels and begin posting high-quality content FROM your website, to your audience—this could be through YouTube, Facebook, Instagram, Pinterest, etc.
Establishing yourself as an authority in your niche will help drive traffic to your SaaS website and get customers into your funnel.
How is this related to SEO?
For two reasons. Firstly, the content you promote will be effectively SEO'ed; meaning, it should contain specific long-tail keywords that address user intent (we'll get to this in a minute). And secondly, you'll be showing Google your worth by accruing lots of backlinks and shares.
SEO in 2018 is less about 'gaming' the search rankings, and more about authority building and streamlining content.
The most apt example of a SaaS company pitting authority first, is Moz—who ironically specializes in SEO content. Led by the legendary Rand Fishkin, Moz consistently delivers high-value content to its consumers through blog posts, videos, and advice packed emails. The company's staple are its "Whiteboard Friday" videos, hosted by none other than Rand.
In them, he stands in front of a whiteboard and riffs about the SEO topic of the week. If you couldn't tell, he has quite a personality.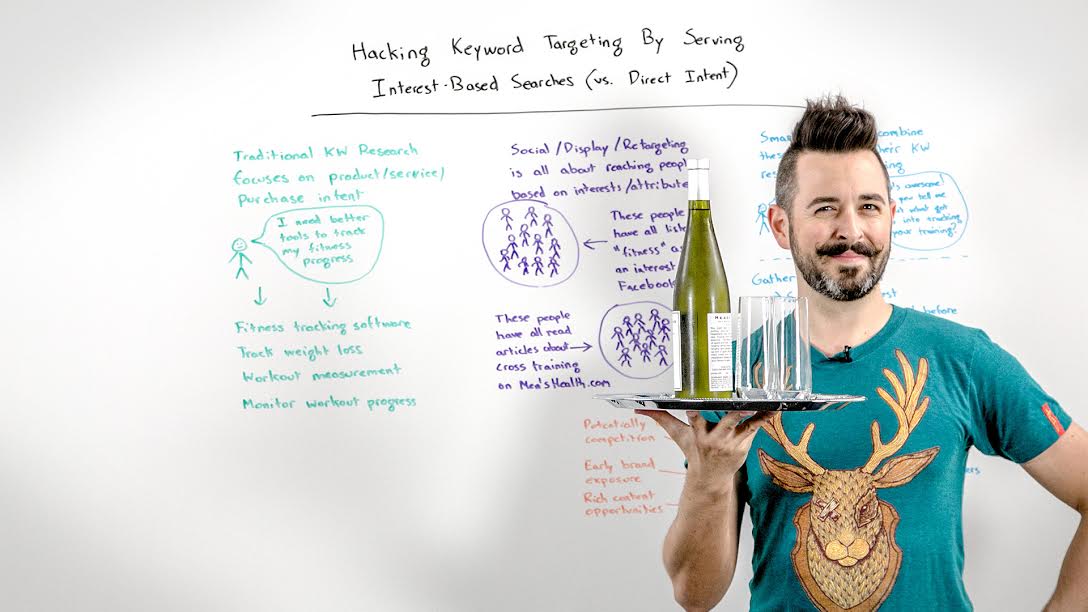 To be clear, Moz is definitely a software company. But you wouldn't think it based on their content. Why? Because Rand Fishkin's goal here isn't to sell you on his various products, it's to position himself as a master of SEO.
The result? Well by watching/ liking his videos, subscribing to his YouTube channel, joining his email list, and following him on Twitter, a large audience is born. This audience will continue delivering hits to his website (rankings boost), sharing his blog posts with others (backlinks = rankings boost), and they are far more likely to end up purchasing a Moz product (or many).
User Intent and User Experience Optimizations
We said that today's SEO climate is changing, and we weren't joking. One of the biggest transitions you'll need to make is with regards to UIO and UEO; in plain English, user intent optimization and user experience optimization.
With these new SEO emphases becoming the norm, it's time to treat your SaaS site more like a series of landing pages. Get to the essence of your product quickly, addressing your user's intent right away.
Here are examples of UIO and UEO successes…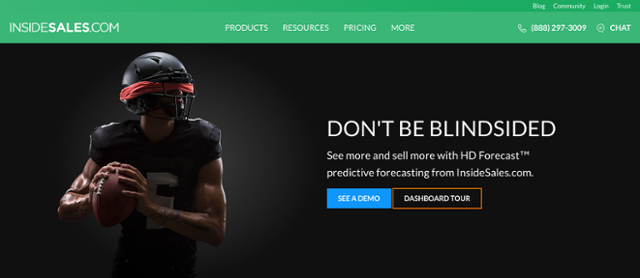 The homepage of InsideSales.com could easily be a splash page after clicking from an AdWords ad. Having a call to action above the fold on your homepage is great for conversion rates, and it will also help your SEO. Really!
80% of users still see above the fold content more often than below the fold content, even with the majority using smartphones that scroll. This means you can increase your visitors' time on site, which will show Google's algorithm that your site has value and is thus deserving of high rankings.
Along those same lines, here is Hubspot's homepage.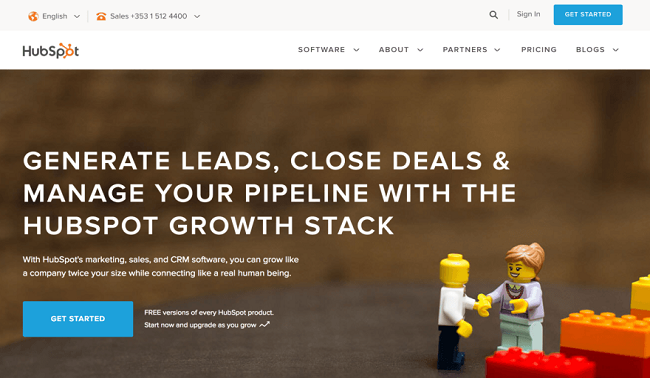 One of the biggest SaaS players in digital marketing and sales consolidation knows how to grab our attention. Two legos hugging to the right of their call to action is certainly a nice touch. Notice that above we have a normal website navigation bar, should consumers want to navigate to other pages. But they can also simply GET STARTED thanks to this great welcome mat of a homepage.
Of course, having a landing page optimized for conversions is only the next step after a user searches for your product. You first have to GET them to want to click on your page.
This is where user intent optimization seeps into your keyword research…
Let's say you're an email marketing service company. Rather than aiming for bland (and EXTREMELY competitive) terms like "email marketing service," you should instead focus on user intent and conversion potential.
What are people typing into a search query to discover your brand? Sure, many would type in "email marketing service," but what are some more long-tail, user intent friendly keywords they might try? How about "need help with email marketing," or "how to do email marketing for (enter niche)."
The more specific the terms are that you're targeting, the more likely you'll find customers that will ultimately convert for your SaaS product. You will likely get fewer hits to your website but that's okay… you'll be getting better hits.
Then there's the issue of indexing. Keeping a concise sitemap is always a best SEO practice, but there are other considerations at play when it comes to SaaS companies.
Search Engine Land brings up the value of indexing customer surveys in Google, as a way to show testimonials in search results. Of course you may need to leave a disclaimer for customers when they enter their survey that you'll be posting it publicly, but it could be worth it. And if you place these surveys onto a subdomain, just use a "noindex" tag if you decide you don't want to use them.
If you're indexing the blank survey form itself for customers to fill out, be sure that the title tag and meta description elicits a clear call-to-action for them.
7. SAAS Content Marketing
Even today, only 11% of SaaS companies are investing in content marketing. Of that tiny percentage, even fewer companies have a clear strategy. Whether it's a blog, weekly videos, or detailed tutorials, there are a number of ways you build your SaaS brand by providing value through content.
It starts by asking those questions we all ask about our brands: a) who is our target audience? b) how would they like to consume our content? c) how will this improve our ROI?
The first step would be to ask your email list or social media followers what kind of content they'd want to see. Combine this with testing of different kinds of content and you might come across a gem.
Time to let you in on a secret… podcasts work. Not just within the podcast itself, but in terms of helping brands build a following on their other platforms. For example, 48% of monthly podcast consumers follow companies and brands on social media, compared to only 31% of the entire U.S. population.
What's more, the podcast doesn't necessarily have to represent your brand at all. You can use it to boost your personal brand, which in turn can help boost your SaaS brand.
Here's an example…
The Startup Chat has risen the podcast ranks thanks to the lively personalities of Steli Efti and Hiten Shah, both of whom started and grew prolific SaaS companies. The purpose of this podcast isn't directly to market a specific SaaS product, but to provide value to others in the B2B SaaS space.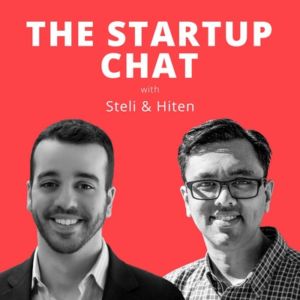 Startup founders and even seasoned SaaS professionals will find actionable information in their twice a week podcast. Sometimes the best way to build a following for your brand is to start by building a following for yourself.
But what if you've decided on a platform and the problem is can't decide on the content itself? Consider your audience's pain points to reach a solution.
A doctor's job is to heal the patient where the pain is, and so is yours… well, in a different way. Your job is to target the areas of "pain" that your ideal customer is feeling, and address them with your SaaS product.
When you start creating a content marketing plan it's easy to feel overwhelmed, not knowing whether you can provide enough value to sustain your audience's attention over the long haul. But when you start breaking down your audience's pain points, plotting out a content schedule becomes a whole lot simpler.
In the SaaS world, one of the best content marketers is Salesforce. Their blog excels at identifying customers' pain points while smartly prescribing their product as the solution.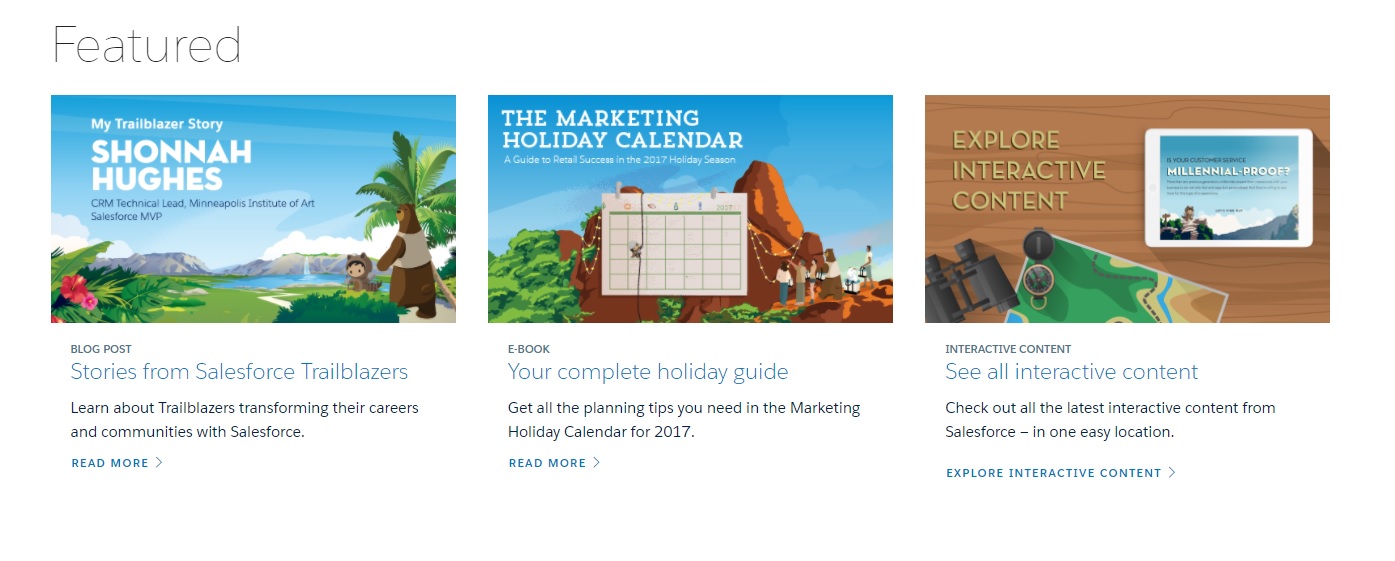 Timeliness is everything, and Salesforce clearly studies the latest Google trends before posting its content. They even released an e-book titled "Your complete holiday guide" in October 2017. We know that customers of Salesforce are looking to up their marketing automation game, and what better way to do this than during the holiday season.
Uplifting News
If you cower in fear over the future of your business, here are some glowing stats to turn your frown upside down…
The Content Marketing Institute found that 65% of respondents believe that their overall content marketing success has increased from one year ago. Plus, 56% of companies are using multiple SaaS vendors, and that figure is destined to increase. This means that there are plenty of opportunities for smaller brands to make an impact through a sound content strategy that takes into account the needs of their audience. If you're going to swim in 2018, keep user intent front of mind and never stop optimizing.