How to Setup a Successful Email Marketing Campaign (Step by Step)
Email marketing has seen perhaps the greatest adoption of any subset within digital marketing over the past several years. Today, at least 56% of companies currently use an email marketing provider and more than 75% of companies are likely to purchase marketing automation software in the next year. Brands are constantly looking to improve open rates and click-through rates on their emails, as they rely on email as a vehicle for nurturing customer relationships. But mastering the art of email marketing isn't as simple as buying MailChimp and watching your conversions skyrocket; there's a great deal of setup required on your end. Yes, we're going to show you the HOW. What follows is a crash course in building an email campaign that will come the marketing gift that keeps on giving..
Know The Purpose of Your Emails
Are you an ecommerce site that wants to build a lead list to share discounts and product offers with potential customers? Or are you a community website that needs to release information about weekly meetups and local events? No matter what your brand is about, understand your purpose for using email marketing and why it's important. Building an email campaign is a time consuming process, but realizing why you're doing it is one of the most important first steps along the way.
Know Your Audience Through Keywords
Now that you've decided on the "why" for your email campaigns, you must decide on the "who" you're targeting. Knowing your target audience means understanding what keywords they'll type into search queries to discover your brand. Start by using a resource like Google's Keyword Research Tool, to unveil dozens of short-tail and long-tail keyword options that will inform your email campaign.
The Keyword Research Tool is magical. It shows you exactly what people are searching for, and how frequently they're doing it. You can then start thinking of ways to address their problems through your email campaign. For example, let's say you're operating a product review site in the niche of web hosting. When you type in "web hosting platforms" using the tool, you'll find many selections that have a high CPC. We're talking suggested bids of $50 or more!
Clearly not the most profitable options for your brand to invest in. But let's think about the problem that our web hosting reviews aim to solve. For those who are new to the world of website creation and design, hosting is likely a foreign concept. Most newbies probably don't even know what "hosting" is—is it like, hosting a dinner party? Nope. Instead, of typing in "web hosting reviews", they might be more likely to type, "how to create a website," or "what do I need to start a site."
These particular terms have MUCH lower CPCs.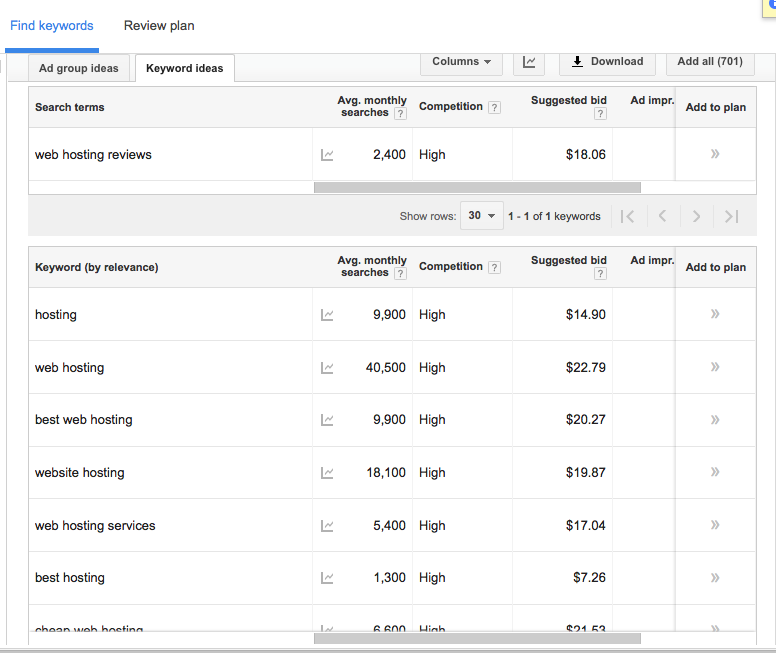 Notice how the keyword "web host reviews" costs slightly more than $18/click? Meanwhile, "how to create a web page" is less than half the cost at $7.51/click, but still has a pretty high monthly search volume.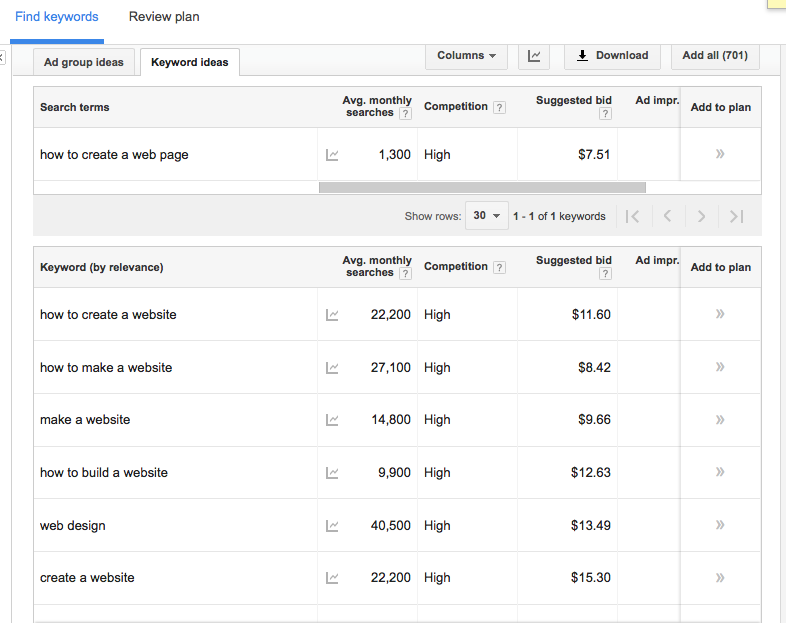 Sure, this information is great if you're targeting leads through PPC ads, but it's also representative of a market deficiency that you can use to your advantage. By understanding the elementary needs of your audience, you'll be able to produce a more genuine and informative relationship. In the web hosting example, our competitors might assume that their subscribers already know a lot about the topic, but you can give your subscribers a little extra guidance in case they don't.
Keyword suggestions will provide you with many potentially great content ideas. For example, someone who's running a blog on gardening advice will find that typing in the term "gardening advice" into the Keyword Planner will unearth a ton of great ideas for emails and website content.
Below we see that between 10,000 and 100,000 people per month are searching for "garden ideas," "garden design," and "landscape."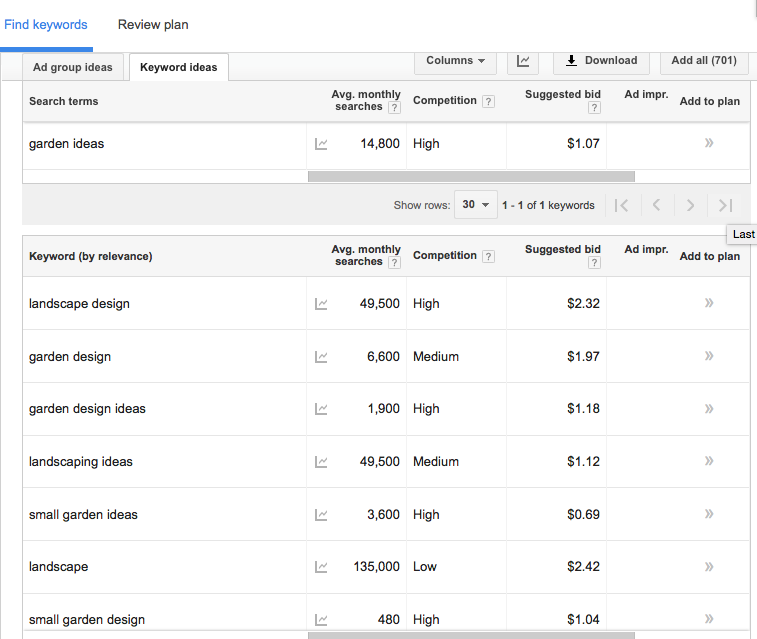 Thus, you could implement these keywords somewhere in your email opt-ins. Perhaps you could offer a free ebook or blog post on your opt-in page titled, "3 Simple Garden Design Ideas You Can Try Today, Without Gardening Tools."
These keywords also help you know your audience better by showing you specifically where your audience hangs out. A Google search of "garden ideas" shows content from websites like Good Housekeeping, which you can head over to and start reading comments from your target audience. Make notes of any recurring questions people have, then aim to address them in your email list.
Let's say you're operating an affiliate marketing site for jewelry, and trying to get subscribers for your newsletter where you discuss latest trends, product releases, and other content. You need to ask yourself a couple of questions, a) where does my target audience reside? And b) can I get affordable CPCs and a positive ROI from advertising on those platforms? A great location to find an audience who likes jewelry would be on Pinterest. The photo-sharing site is ripe with images of jewelry and other fashion accessories that you might be marketing as an affiliate.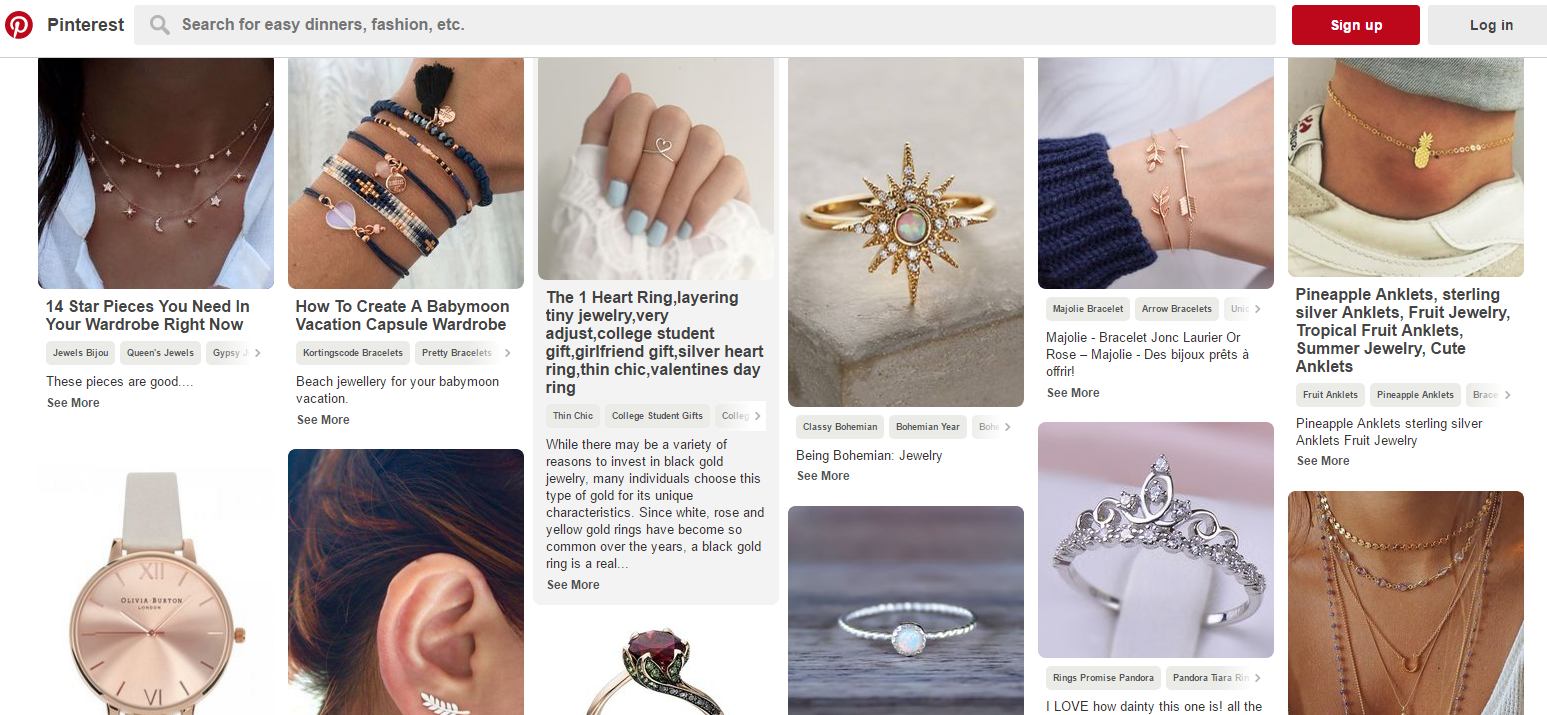 You can create promoted pins at relatively low CPCs, decide where you'd like them to be placed, and garner thousands of page impressions in a short amount of time. You can produce multiple low cost campaigns to test out different keywords and begin scaling up the successes.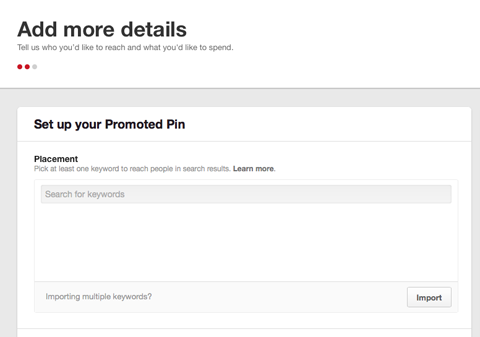 Social media advertising is a great way to build your email list, but that's not to say it's the best way to connect with your audience. Search engine advertising is still a popular way to build leads, and although Google AdWords is leading the way because of its wide reach, Bing is offering up a robust alternative to marketers who want lower CPCs.
Finding effective keywords to implement in conjunction with your organic or paid marketing efforts is just the first stage of a successful email campaign. Next up, how do we get people to actually opt-in?
– Getting Consumers To Opt-In
Email marketing doesn't work unless you have people to email, which is where opt-in pages, or squeeze pages, come into play. An opt-in page is the place where your leads sign-up for your email list, under the guise of "learning more" about your brand. Usually, you would offer up something to entice them to sign-up, i.e. an "incentive."
A successful opt-in page doesn't ask for too much, it's simply intended to steer your leads into the funnel. But that level of responsibility means that opt-ins are extremely significant. A bad opt-in page can destroy your conversion rate, even if the rest of your email campaign is fine-tuned.
Here's an example of a poor, nonspecific opt-in page: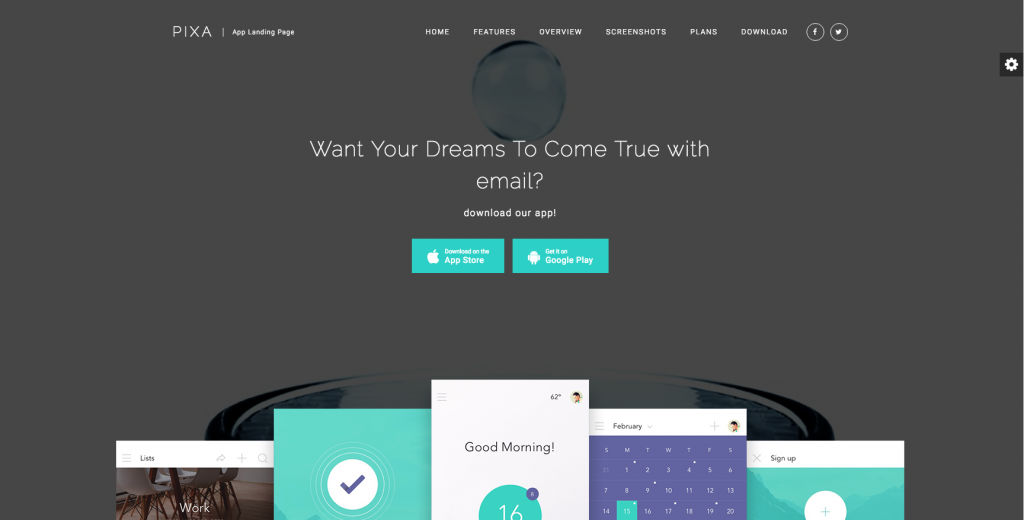 "Want Your Dreams To Come True with email" is not the most compelling sales pitch. Let's try changing the headline and see what happens: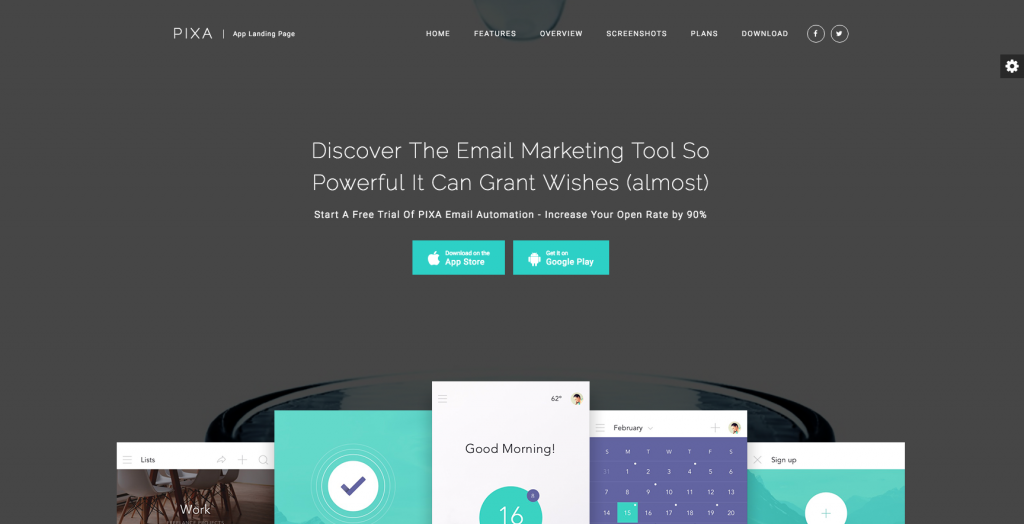 "Discover The Email Marketing Tool So Powerful It Can Grant Wishes (almost)" is a much more engaging way to address a lead. Simple changes in headline copy can vastly improve the CTRs of opt-in pages.
-Opt-in Incentives
"Come join my email list" isn't going to get you many conversions. An effective email marketing campaign uses incentives on their opt-in pages to entice people to sign-up. Here are a few options you can explore:
People love getting their hands on "free" things, especially when it's packaged as an eBook. Why? The perception of eBooks is that they offer free expertise. Usually, they'll include promises like "5 Ways To Start Losing Weight Today!" Then there will be a teaser at the end of the eBook promising tons more expertise once the consumer signs up. All in all, they can be a highly effective method of lending your brand credibility, while giving potential leads a sneak preview of what to expect as members of your email list.
Staying with the theme of "free" things, you can also offer opt-ins a free course guaranteed to "double your traffic in 2 weeks!" Or, "Master JavaScript in 3 months!"
Neil Patel offers a free course for his opt-ins, but sweetens the pot by adding a "Secret Bonus" to the mix. It's kind of like dangling a carrot in front of the horse, but hey, if it works it works.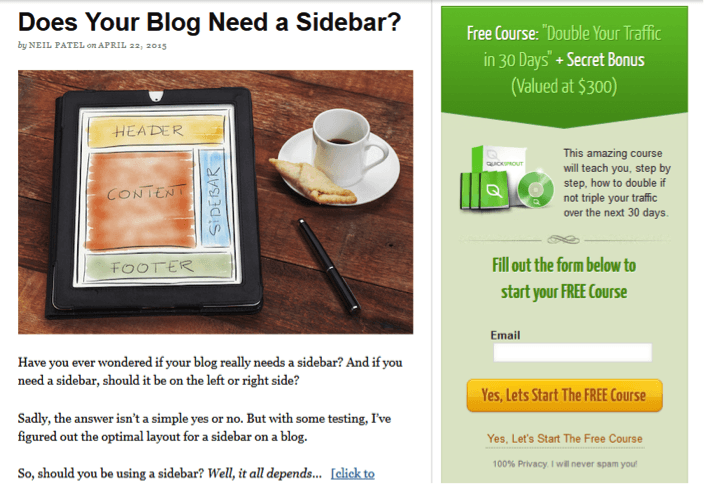 Basic Version of Paid Service
If you're selling a premium software service to customers, you might try to offer a "basic" version on your opt-in page. This introduces customers to your brand, but keeps their commitment risk-free. Meanwhile, you'll have them on your email list to start convincing them to BUY your service.
'Brag' About Social Media Presence
There's nothing wrong with a humble brag every now and again, especially during this customer courting phase. Including a simple message along the lines of, "Discover What Our 11,000+ Followers Already Know," followed by your sign up option.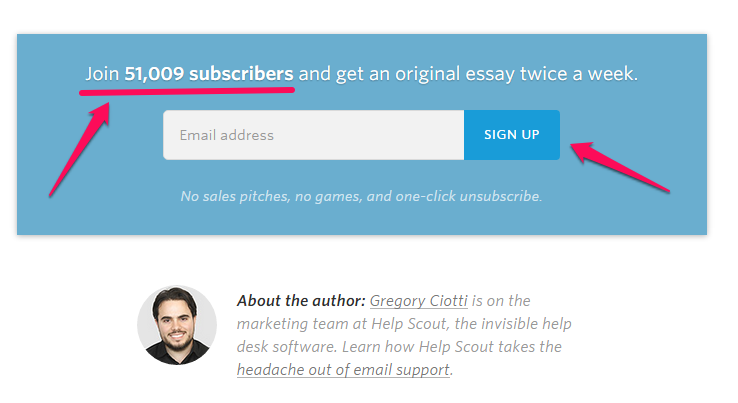 Social currency is not to be underestimated. It can make leads feel much more trusting of your product and service.
There's mixed information regarding the effectiveness of pop-up windows in terms of how well they drive subscriber counts. Some information indicates that opt-in pop-ups can drive 1,000% more subscribers, while other marketers find pop-ups to foster higher bounce rates. It's definitely a method worth testing before committing one way or the other.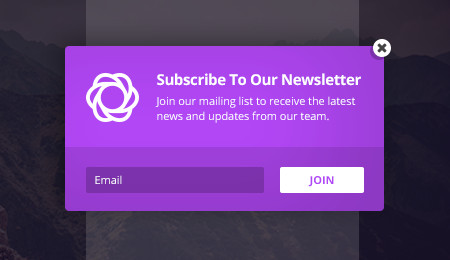 Hopefully at least one of these opt-in strategies works for you and boosts that conversion rate. But once you've started building your email list, how do you determine which emails to send to which consumers? This is where the idea of segmentation comes into play. It can increase open rates, click through rates, and ensure that consumers find their ideal products.
Segmenting Your Audience
Those marketers who are familiar with Google Analytics know the concept of segmentation like the back of their hand; it also applies to email marketing, and can be the main difference between increasing your email CTRs or not. Segmentation will appear again and again throughout your email marketing campaign creation and optimization, but let's begin with how to use it for targeting new customers.
There are several ways of segmenting your audience to determine which leads receive which emails.
When people fill out your signup form to receive emails, you can provide specific options based on their interests. For example, a sports website might allow users to check boxes for their favorite sports they like to follow. This ensures users will only receive updates about the stuff they care about, making them more likely to want to subscribe to your list in the first place.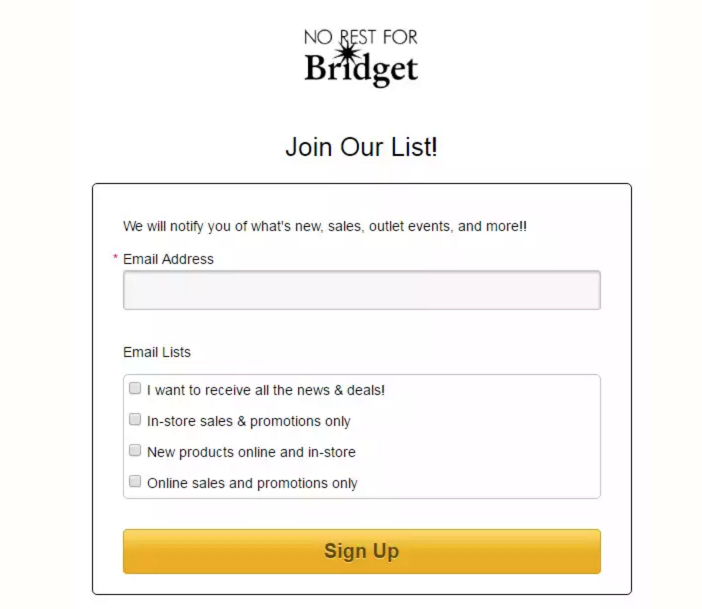 Subscribers like to have full control over which emails are invading their inboxes, which is why segmenting by interests is such an effective tool. This strategy can boost email open rates by nearly 10%, while boosting overall clicks by a whopping 74.5%.
There's an unwritten rule that you shouldn't send a lead an email after 60 days of inactivity. Otherwise, it's undoubtedly going to be spam. In order to send emails based on the date when your subscribers joined your list, you can segment them according to sign-up date. Addressing consumers based on the date they signed up will help guide them through your funnel at an optimal pace.
In theory, someone at the top of your funnel would receive more generalized emails than someone who is nearing the bottom. Segmenting by sign-up date allows you to determine which consumers are furthest along your funnel and should be receiving more personalized emails as a result.
Segmenting customers based on sign-up date also shows you how you must improve your sales funnel. For example, if customers who've been subscribed for 30 or more days still haven't purchased your product, it's time to re-evaluate your site content, social media output, etc, as well as the effectiveness of your individual emails. Within the emails you can examine how consumers are interacting with your content, like seeing if they've clicked on a click, or whether they're opening your emails past a certain date.
Segment By Email Engagement
Building off our last point, you can segment subscribers based on how well they engage with your emails. This could be the best indicator as to which people are most likely to purchase.
You might want to organize this list by either clickthrough rate or open rate—then take the most inactive users and begin formulating a new campaign aimed at regaining their loyalty. But of course your primary focus should be on the most engaged of the bunch.
What are some ways you can run tests on your highest CTR and open rate subscribers? By sending out a segment-wide email announcing an upcoming offer and placing a link within the message. Simply calculate how many readers click on the link. These little tests aren't the ultimate decider in seeing who's likely to convert and who isn't, but they can at least give you a better feel for how to effectively market within your emails.
Find out which groups are most interested in your products by segmenting according to demographics. There are a number of factors to consider for this segmentation, but be careful not to scare any leads away by asking them too many personal questions. Start with simple characters like gender and age, then add more dimensions as you see fit. You can now include targeted product offerings within your email campaigns.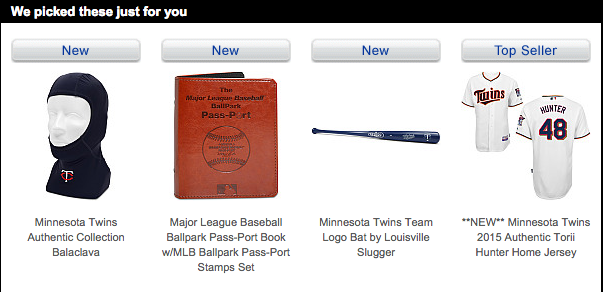 This can be a great step towards converting more customers.
Demographic segments are a large part of any ecommerce store's marketing strategy, but they probably wouldn't be used by, say, a B2B Saas company. Understand your niche to determine whether this type of segmentation works for you.
Asking your customers about their interests directly can be beneficial. Although some people might be less likely to sign-up when confronted with a survey or quiz, the ones who stick around to fill it out might be credible leads.
Sure they require more work on your end, but quizzes can be a fun way of engaging your audience. If you ask them the right questions in a playful way—like, "boxers or briefs?"—then you can ingratiate yourself to the consumer and make them more likely to purchase.
There are a number of survey tools out there to help you formulate questions. Most come as a feature within any standard email marketing automation tool like MailChimp.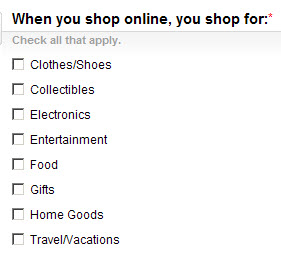 Segment By Geographic Region
Are you a service business who relies on patrons walking into your storefront? Using distance segmentation can help you connect with customers in local markets, making them more likely to react to the local-ness of your brand. Rather than receiving emails from some massive company whose headquartered 2,000 miles away, segmentation by geographic region allows you to put a local face on your products. It's especially important for ecommerce stores that sell local team gear and paraphernalia.
It's also a great way to manage time-sensitive emails. Oftentimes marketers forget about time zone discrepancies when they send out email blasts, but geographic segmentations can fix this. If your clothing store sells to customers across the United States, or the world, you'll improve open rates by sending emails at appropriate local times. You can also use this to account for seasonal differences across hemispheres—if you're selling parkas in January to Canadians, you won't want to also market parkas to Australians.
Understanding your audience means understanding WHERE your audience resides. For this reason, geographic segmentation might very well be the most important email marketing segment you'll use.
Get Emails Whitelisted
All the hard work you've done to segment and target specific subscribers will be a waste if your emails go straight into the spam folder. Gets your emails whitelisted so that they appear in your subscriber's inbox.
The process is simple, but can require some output on the part of your subscriber. They might have to manually authenticate your email account so that they can continue receiving your messages to their inbox, which means you need to remind them. To do this, include a brief message in your email saying something like, "You're receiving these emails because you signed up on our site. (Click Here To Stay In The Loop)." The link should include whitelist instructions for a variety of email providers, to ensure that theirs is covered.
Campaign Monitor offers a nice instructional template for reference.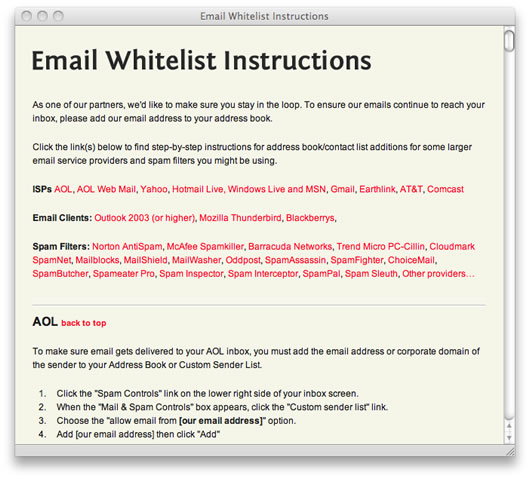 Email Automation
Ever heard of a drip campaign? Simply put, this refers to a series of marketing emails that is sent to your subscribers automatically. They might receive one right after sign-up, welcoming them to your brand, then receive another one a few days later that goes into greater depth about what to expect as your customer. As your list grows, so does the importance of email automation to help you connect with and address your customer's' specific needs. Let's go over a few examples of how email automation might be used to leverage your relationships.
For example, if you're running an ecommerce store and find that too many customers are abandoning their shopping carts, you can set-up an email that reminds them to finish their checkout process.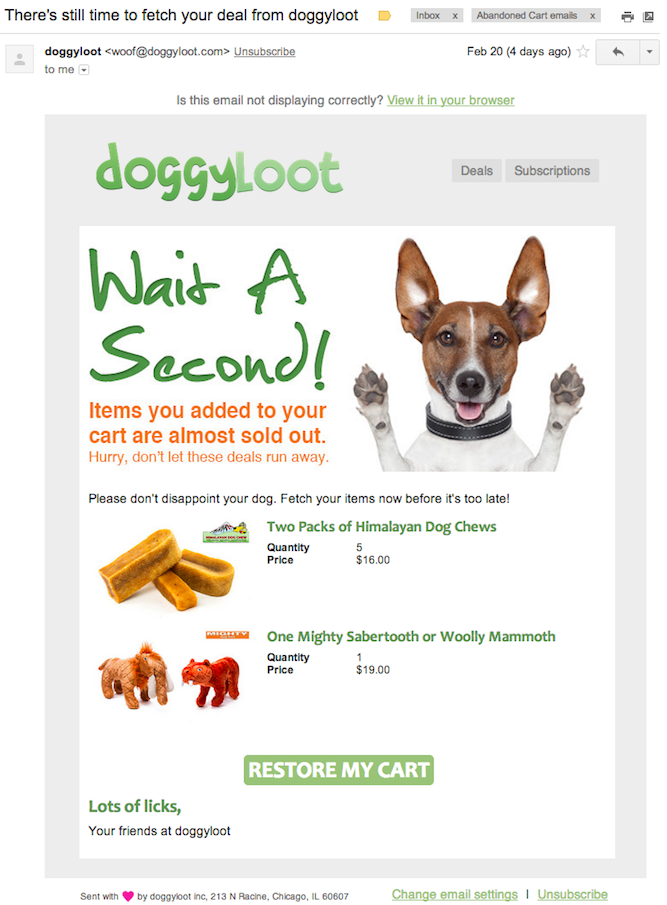 This can serve as a playful, yet very helpful reminder that your customer needs to finish their order. Oftentimes they simply got distracted and forgot to buy your product at the time. Set-up these "abandoned shopping cart" emails within your drip campaign and watch your conversion rate rise.
You can also provide a series of courses within your emails, letting your customers know that they'll be receiving a new email every few days providing them with more information. This is a great way to increase engagement, as your customers will be eagerly anticipating each new piece of content. For example, if you're a digital marketing agency you can share "7 Secrets To Improve Your On-Page SEO" by sending a series of seven emails.
Email automation allows you to control the consumer experience from the point of opt-in, throughout their entire life as a buyer. It can also be used to remind them that the process is about to begin again—ie, an "automatic renewal."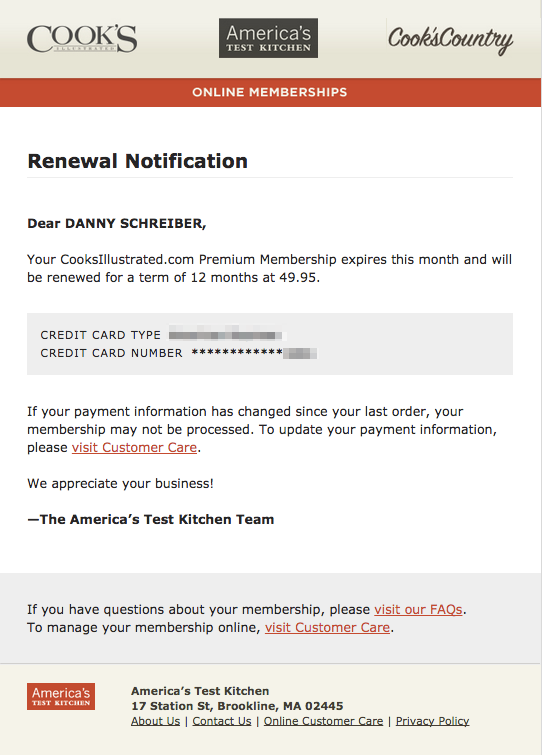 These emails are a nice courtesy to show that don't want to take your customer's money without asking.
As we cited in the beginning of the piece, more and more companies are turning to email automation to target and differentiate customers' needs. A drip campaign requires a good deal of work upfront to setup your specific emails based on certain user actions, but once everything is fine-tuned, the campaign unfolds while you sleep. We'll discuss the best email automation tools in a little while.
Striking a Balance between Original and Curated Content
Original content vs. curated content? It's the age old debate among content marketers who try to determine which format is better for their brand. While there's no conclusive answer, a couple general rules should be acknowledged.
First, there's the notion of the "80/20 rule," dictating that 80% of content should be original and 20% should be curated. In 2017, it's hard to say that this rule still makes sense, mainly because content posting schedules are becoming too demanding to facilitate original content being created throughout the day. Even with a team of two or three content writers you'd be hardpressed to generate enough original blog posts to be disseminated to subscribers on a regular basis. Because of this, the percentages of original vs curated content are nearing 50%-50%.
Secondly, remember the purpose of your emails. Is that purpose purely to build relationships with your subscribers? Or are you using them more as a vehicle for branding? If your answer is the former, then curated content might be a slightly better focus in your campaigns. While it doesn't do a lot for improving your branding efforts, curated content saves you time and can demonstrate your wider breadth of knowledge within the niche. It also portrays you as a more neutral marketer, since curated content means you aren't directly pitching your products to subscribers.
However, if your focus is squarely on branding and building a dedicated customer base, original content might be a better option. It takes longer to produce but it can also improve your image as a thought leader within your niche. That level of authority is invaluable for most of us.
– Consistency, Not Quantity of Emails
Ever heard the saying, "it's quality not quantity that matters?" For a successful email marketing campaign, this seems to be true. Just add the word "consistency" to the mix and you've got a combo that's bound to convert.
Whether you email your subs three times a month, once a week, or once a day, the key is to do it with consistency. Don't be sporadic, or random. Test as you go and try to find your sweetspot where send frequency correlates with maximum ROI.
The 2015 National Client Email report charted the email send rates among various marketers around the U.S. and found inclusive results.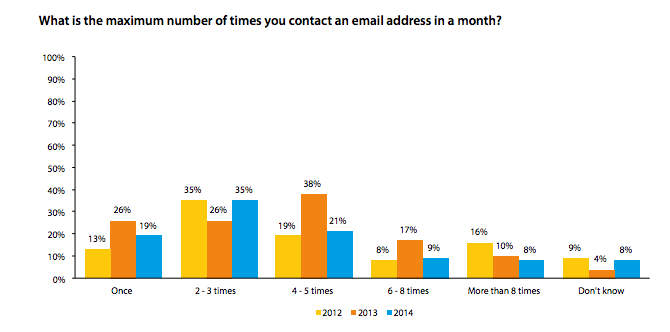 The sweet spot could be anywhere from 2-6 emails in a month. But again, if the quality and consistency of your emails isn't there, you won't see a great conversion rate no matter how many, or how few, you send.
– Focus on Relationship Building, Not Sales Pitch
Emails aren't designed as a way to haphazardly fling products at subscribers. The goal is to nurture a relationship that leads to a better customer lifetime value. This is where content marketing comes into play.
Throughout your email campaign, leave your subscribers with content they will actually… you know, read. If you're marketing winter clothing, produce an article titled "7 Ways To Keep Warm When Going Out" and include a link to it within your email. This will provide subscribers with engaging content, rather than another product bombardment, and it will also act as a way to get them onto your website.
Keep your messages brief. Click through rates will suffer when emails are too long. It also makes the email seem way too impersonal right off the bat, in my opinion. Think about it, would you send your friend an email that's the length of a miniature novel? Probably not. So why would you do it to your subscribers?
By focusing on relationships over sales, you're placing more attention onto your most credible leads and weeding out the rest. The ones who stick around are more likely to share your content across social media and even refer you via word of mouth. Building relationships is the definition of networking, so just think of your email campaign as a grand networking opportunity for your brand.
– Deliver Smart Content After Purchase
In sales funnel terminology we call this the "Retention" step, or the period after the sale when you're trying to ingratiate the consumer to come back for more purchases. This is arguably the most important stage in your email marketing campaign. It could be the make or break moment when the consumer either becomes a repeat consumer, or is gone forever. Luckily, with effective emails you can land them in the first category more often than the second.
Now's the time to thank them for their loyalty, and offer them incentives to come back. These incentives could be in the form of a buy-one-get-one type offer, a promo code, or unlocking of advanced features (if you're selling digital products).
Amazon does this better than anyone. They're retention rate is through the roof, partially thanks to their "thank you" emails post-purchase.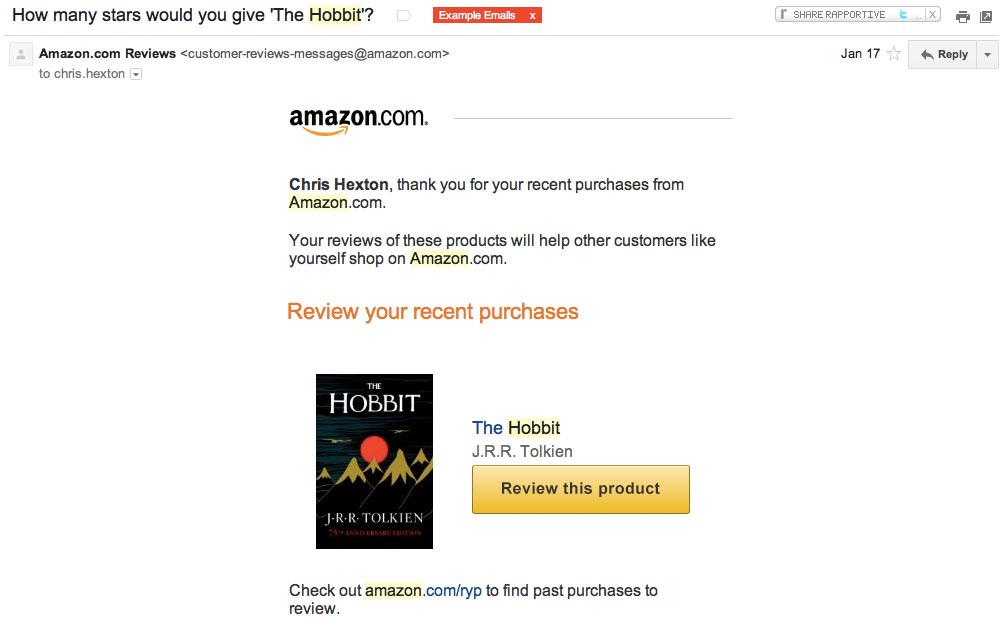 Following a purchase from the Amazon Kindle Store, you'll get an email asking you to review your product. This helps keep sales up on Amazon in general (items with more reviews tend to rise up the search rankings) and it allows the consumer to remain engaged with Amazon. There's also a link at the bottom of these emails guiding customers back to the site so they can review other past purchases. Brilliance.
You can also reward your best customers by inviting them to a new special status level, something along the lines of "VIP Club." This will obviously make them feel more important, but it will also implore them to share this news with friends. You can associate this status with special promotions, giveaways, and discounted shipping if you'd like.
– Surveys
Surveys are a great tool to have in your arsenal. These quick questions not only provide general feedback to you, the marketer, but they show the customer how much you genuinely care about delivering better service in the future.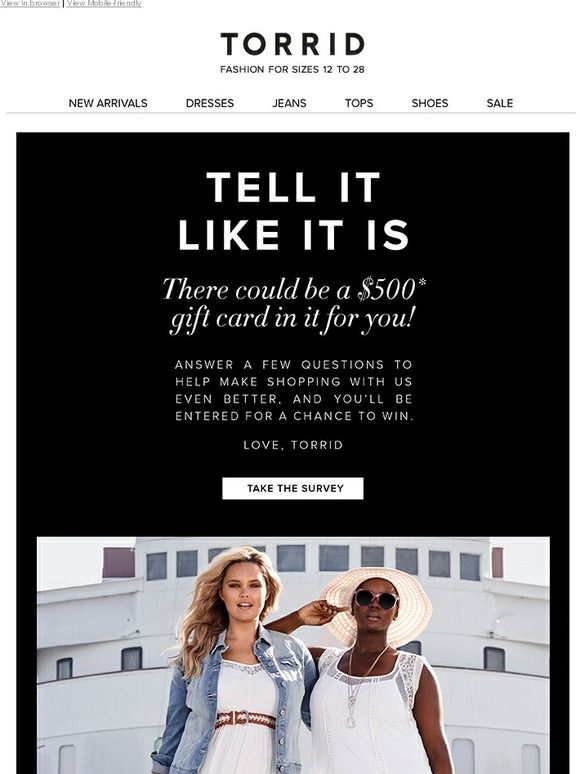 You can sweeten the pot with a nice little offering to your customer. In the example above, we see how Torrid tempts their customer with the possibility of a $500 gift card.
The two objectives you're looking to achieve from the survey? Feedback about your customer's experience, and convincing them to buy more. Offering them a gift card, discount, or coupon code for completing the survey will go a long way towards achieving both.
– Important Campaign Metrics To Track
You've driven customers through your funnel, made conversions, then started retaining them, so how do you monitor your campaign's success? There are many tools on the internet to help you out, but first of all, which metrics should you be tracking?
How quickly is your email list growing? Are you seeing many unsubscribes or spam complaints? The lifecycle of most email subscribers is short, meaning that there's a constant need to re-populate your list. But the mark of a successful email marketing campaign is when the list gradually expands. Even if 1,000 people unsubscribe each year, it won't hurt you much if 4,000 more people are joining your list.
Ah yes, the holy grail of email marketing metrics. Evaluation of CTRs needs to be done on a constant basis to ensure that your email are resonating with your subscribers. If people aren't clicking on the links you've included, it could be time to change up the email copy. Either it's not engaging enough, or it doesn't articulate the benefits of clicking on your links. CTRs are usually the most important metric you'll be tracking in your campaigns.
Email bounce rate is a little different from that of a website's. An email bounce rate is the percentage of your total emails that failed to get delivered to your subscriber's inbox. This could be due to your subscriber's inbox being full, or it could be that they typed in an invalid email address. If it's the second reason, you should remove their email address for your list right away. Otherwise their ISP might blacklist your emails as spam.
– Analytics and Automation Tools
Google Analytics is the most robust data collection tool around. It can collect just about any and all types of information, so of course that includes your email marketing campaign data. The trick is in how you choose to set it up. Probably the best way is to manually tag the links in your emails that lead subscribers to your landing pages. Then, either through an Audience Report or Traffic Sources Report (the latter might be the best option), create a new segment for your email traffic.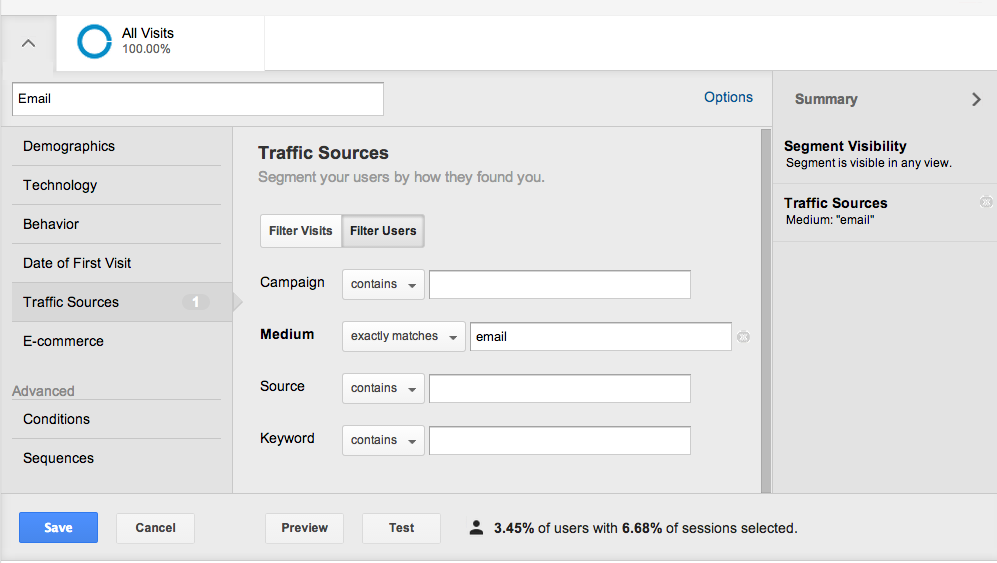 If you'd prefer a more email-dedicated service, try AWeber. While it doesn't support Google Analytics integration, it has plenty of features on its own that make it a worthwhile option.
Plans begin at $19 per month, and allow you the ability to create visually-pleasing emails through a vast library of templates. AWeber is a great option to help you automate your email marketing campaigns, especially if you're just delving into email marketing for the first time. Best of all, they offer a 30 day FREE trial. Music to our ears.
MailChimp is quickly becoming a favorite in the email marketing world. It's great at not only handling your email designs, but it can also share your newsletters across multiple social networks. Even better, MailChimp is available in a free version.
The free version gets you up to 2,000 subscribers and allows you to send up to 12,000 emails per month. The only downside is that each email will contain a small MailChimp logo on the bottom, but hey, it's called "free." Of course, the paid versions don't have such logo.
A perennial name in email marketing, Constant Contact is more expensive than most services ($295 for 50,000 subscribers) but it has an extensive library of templates, can create multiple social campaigns for you, and includes options for implementing surveys. It also has a handy autoresponder to help put your campaign on autopilot.
There are multiple ways of importing contacts into your list, including by uploading a CSV or TXT file at any time. And finally, Constant Contact enables integration with Google Analytics. Rejoice!
Where Constant Contact has been a more traditional email marketing solution, Salesforce is a much newer one. This all-in-one, cloud-based CRM software has some incredible capabilities, including the ability to analyze customer profiles and see a person's interaction history, as well as where they're at in your sales funnel.
Salesforce also manages sales forecasting in real-time, giving your sales representatives an upper hand in closing the deal. The software incorporates a robust dashboard permitting integration with other email marketing tools, including…
Pardot is the leader in B2B marketing automation, allowing marketers to rapidly speed up their sales cycle through intelligent email campaigns. You can include customizable dashboards to help give you a better glimpse into how and why certain campaigns are working, and others are not.
Keep it up!
Email marketing is a lot like biking the Tour de France. If you stop pedaling for a second, you'll end up in a ditch. The key to a long and successful campaign is consistency. It's understanding that your goal isn't to generate a bunch of one-time purchases, it's to foster long-term relationships that will pay you back in perpetuity.
In 2017, it's never been easier to build a successful email marketing campaign, thanks to the many great software options mentioned above. But the level of success you attain is still reliant on you mastering the fundamentals. Namely, knowing your target audience and understanding the weight of their engagement. If you master both, you'll be that much closer to winning the race.