What Keyword Research Tools Reveal—and Why You Should Listen
Keyword Research Tools
In the world of search engine optimization (SEO), there's nothing more important than finding the right keywords for your business, and that means knowing what keyword research tools to use and having an organized, effective plan for utilizing them. With so many tools to choose from, it can be a bit daunting to decide what's right for you, but the following (SEMRush, Google AdWords Planner, and Keyword Tool) are some of the most highly regarded in the industry.
The Basics
Before getting too far ahead of ourselves, let's define exactly what we're talking about. What is a keyword, and what's a keyword research tool?
Keywords
A keyword can be understood as a word (or phrase) that describes your product or service. When someone goes to a search engine and looks for a product, whatever that person types into the search engine is a keyword. For example, say you make and sell your own jewelry online. A keyword for you might be "handmade necklaces."
You can probably already start to see that every business is going to have a lot of potential keywords. Just think about the jewelry example. There could be "handmade rings," "handmade bracelets," "handmade earrings," etc. The list goes on and on.
Keyword Research Tools
This is where tools come in handy. You can't track or go after every relevant keyword in your industry. One, it's simply not feasible in terms of time, and two, not every keyword is going to be a quality keyword. What does "quality" mean in this context? That's a keyword that is likely to generate business for you.
Research tools, therefore, are platforms that use data and analytics to help you determine the highest-quality keywords for your industry.
SEMRush: What Is It, and How Can It Help?
SEMRush is one of the most popular search engine marketing tools around. It has free capabilities and paid packages, but either way, it's particularly useful for its keyword data generation.
Search Volume (over Time)
One of SEMRush's best features is the ability to gather search volume data. Let's revisit that site that sells handmade jewelry.
Typing in "handmade necklaces" reveals the average number of monthly searches over the previous year. The results look like this:

On average, this keyword is getting 590 hits per month, and looking at the bar graph, the search term looks pretty steady. That is, searches haven't dramatically dropped off, so people are still actively searching for it.
What if this jewelry maker got a bit more specific, though? What if she used the long tail keyword "handmade silver necklaces"? Then we see this:

Average monthly searches drop off to about thirty per month.
If the jeweler goes even more specific with "handmade sterling silver necklaces," the chart does this:

So few people are searching that it doesn't even register.
Therefore, even if that jeweler makes handmade sterling silver necklaces, that's not a good keyword for her to pursue because people simply aren't searching for it.
These kinds of analytics can save you from wasted time, effort, and money going after keywords that won't likely result in significant business for you.
Related Keywords
SEMRush also provides related keywords and their associated search volumes.
"Handmade necklaces" reveals the following:

This is a great way to quickly and easily determine some other high search volume keywords that you could potentially target.
Competition (Organic)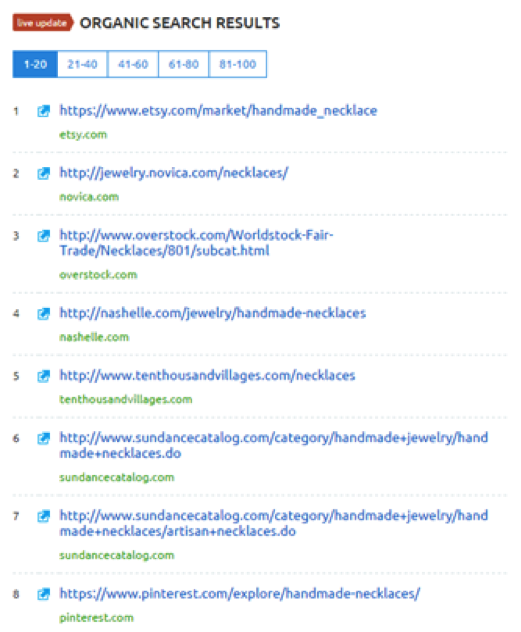 Top organic results for keyword "handmade necklace."
Knowing your competition can give you a huge advantage and shape how you go about forming your marketing campaign. For example, sometimes it's just not likely you're going to rank for a certain keyword. The competition is too fierce, established, or authoritative.
But there's good news. There's always another keyword! One where competition is not so rigid and where you can outstrip all the other sites.
This kind of information can also be gathered by going to popular search engines (Google, Bing, etc.) and typing in your keywords. The results that appear on page one constitute your largest competition.
SEMRush also allows you to run a report on any URL, which reveals the keyword rankings for that site. You can, therefore, pick one of those identified competitors and run this full report.
In the jewelry example, say Nashelle.com was identified as a competitor. The report from SEMRush looks like this: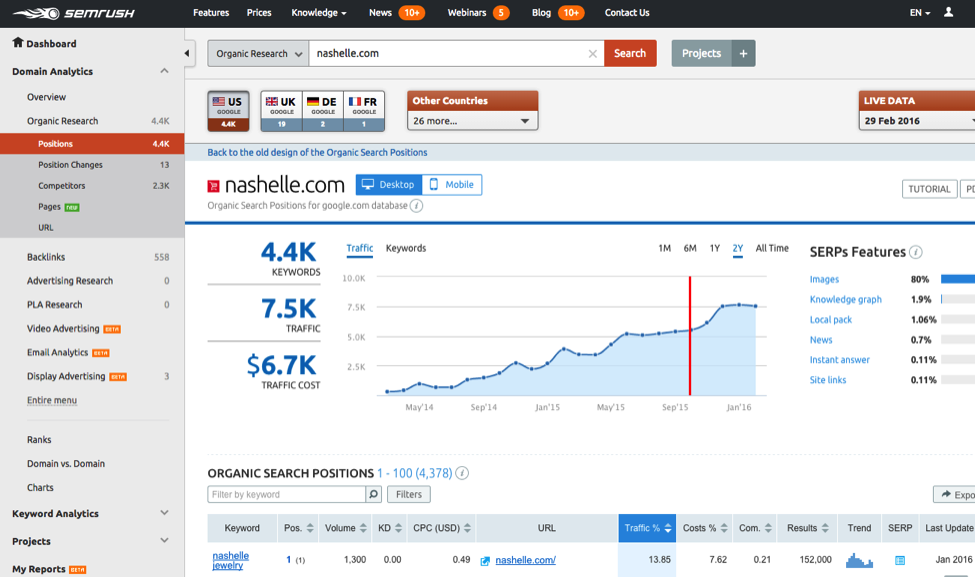 The full keyword list (all 4,400 terms) generated from that report provides amazing analytic opportunities for your site. Not only do you get to see what specific terms your competitor is ranking for, but the report also reveals traffic percentage. This lets you know which of the keywords are driving the most traffic to that site. Interpreting the generated report data essentially gives you instant access to the search behavior of your desired demographic!
Competition (Paid)
Beyond organic, SEMRush can also facilitate your paid keyword research. The site allows you to see all AdWords your competition is targeting.
In addition to the AdWord itself, the report also lists the:
Landing page URL.
Ranking position.
Cost per click (CPC).
This information can be invaluable! By its very nature, organic ranking takes time. Therefore, while you're building your base of authoritative content and improving your organic rankings, you can still contend with your competitors through paid ads, and the data from these reports can inform what AdWords are worth going after.
Multinational Environments
If your industry takes advantage of the borderless Internet and targets customers worldwide, SEMRush provides analytics for twenty-six regional databases. This allows you to tailor your keywords and target demographics based on region.
Other Helpful Tools
One of the best ways to get value out of these research tools is to use them in conjunction with one another. (This is especially feasible if the tools are free.) After all, each tool has its own specialties and deficits.
The more tools you use, the broader (and better) the picture you'll obtain about your industry and how to go about ranking for it.
With that in mind, here are a few other tools to check out and consider adding to your research phase.
Google AdWords Planner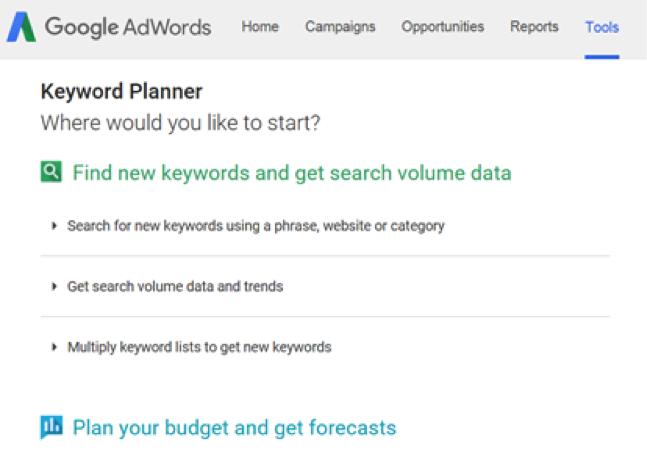 This is another great tool at your disposal. To use this, you just need to sign up for a (free!) account. AdWords is always an attractive option because it offers a wide range of tools of varying sophistication. Whether you're a novice or an expert with keyword research, AdWords can provide you with valuable insight.
Some features include:
Average monthly searches for keyword.
Competition for keyword.
Suggested bid for keyword (based on the cost-per-click advertisers are paying for that keyword)
Keyword Tool
If you're looking for some very basic but truly free keyword research, Keyword Tool might be for you. You don't even need to set up an account to start using. (However, your options and access to data will be very limited.)
Why do people like it? It generates up to 750 long tail keyword suggestions for every search term, which can dramatically cut down on your time spent generating a keyword list.
Searches can be specific to:
Google
YouTube
Bing
App Store
Conclusion
Even though keyword research has changed and evolved since the early days of SEO, it is still a vital part of anyone's online marketing campaign. These research tools, and especially SEMRush, provide invaluable information about how your target demographic is searching and buying. Just remember this is an always-evolving process. People's search patterns change over time, so you need to be using these tools and revising your marketing strategy to reflect that.
Full Disclosure: When you purchase using our referral link, at no additional cost to you, we will receive a small commission. We would get this referral fee for recommending just about any other company, but we only recommend products that we personally use and/or believe will add value to our readers. SEMRush is one of them!