Go beyond your competition with these 4 advanced SEO techniques
Every serious website implements on-page SEO strategies such as HTML tag optimization, sitemaps, and long-tail keyword optimization strategies. Unfortunately, basic SEO has stopped being a competitive advantage and has become a requirement for any website who wants to seriously compete for higher ranks in Google's search results.
To appear in the first result pages, your website must go beyond standard practices and dedicate resources to implementing more advanced SEO techniques. This article will explore four strategies that have a strong potential to boost your SEO rankings.
Use Latent Semantic Indexing for better SEO ranking
Despite its mathematical complexity, the core principle of Latent Semantic Indexing is fairly simple: it is an algorithm used to calculate how relevant the content of a page is to the query submitted in the search engine. It uses the concept of semantic proximity to establish whether a text contains synonyms and expressions correlated to the terms used by the users in their searches. These relationships establish what is known as context in LSI terminology. The higher the density of related terms and concepts, the stronger the context of an online post.
The bottom-line of LSI is straightforward: instead of focusing on one single keyword (or even a specific long-tail set of keywords), focus on developing a graph of related keywords, sentences, and concepts, and explore them in your article following a natural, user-friendly flow. Hubspot puts a great guide presenting different strategies to help you define and expand your group of LSI sentences.
Implement Structured Data and Schema Markup for machine-friendly content
Schema Markup is a structured way of presenting information from your website to search engines and other crawling machines. When accessing this structured information, search engines are able to present your website in a much more user-friendly way. Take a look at the example below, a result of querying Google for "IBM": the boxes and panels are built using information formatted according to the Schema Markup.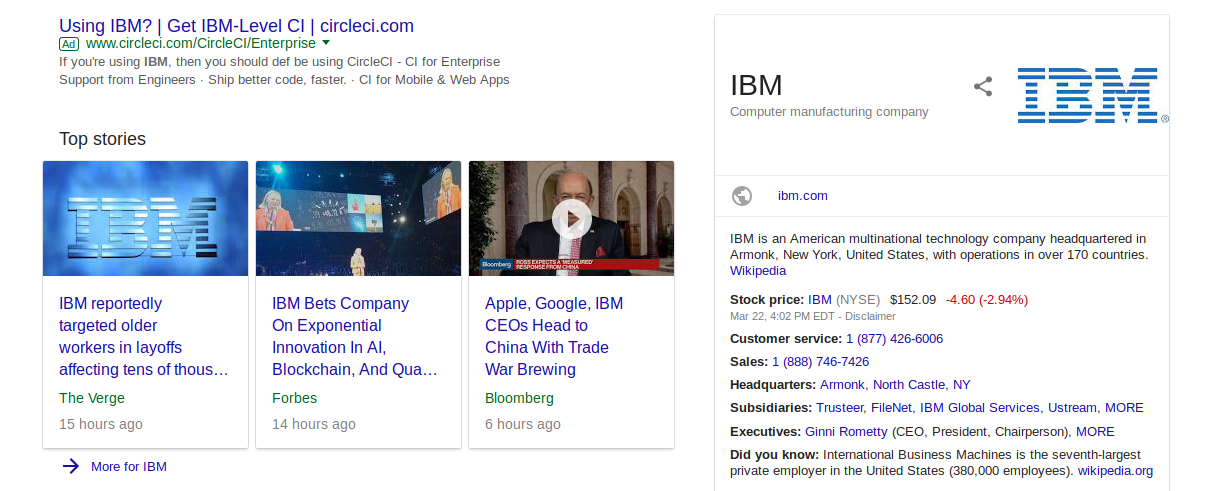 In addition to displaying relevant information from your pages, a solid Schema Markup helps search engines better understand the content of your pages – since it presents data in a machine-friendly formatting – and rank them higher in search results.
Google offers a Structured Data Markup Helper and a detailed guide to assist you in understanding how to properly implement Schema Markup on your website.
Use SEO internal linking for more user engagement
Good internal linking has the potential to reduce your bounce rate, increase user time on page, increase the number of pages visited, and improve your overall SEO rankings. Even though it presents these great benefits, few online businesses do it right. Why? Because it requires shifting the perspective from "trying to generate leads" to "delivering as much as value as we can". The first approach results in a high number of links to a few landing pages, and, consequently, in a high bounce rate. The latter, however, offers diversified links to relevant content that adds value to the user. This results in much better business prospects and better leads.
Here is a comprehensive article that expands on the discussion and offers practical advice on how to implement internal linking efficiently to start enjoying higher user engagement and SEO rankings.
Optimize your old pages to present fresh content
The pressure to produce new, groundbreaking content several times a week might easily consume all the resources from your online content team, and already published pages might end up forgotten and with outdated information. Google, however, favors fresh content – both new and updated versions of your articles. Make sure to update your pages with the latest information related to their context, and to consistently link to them throughout your website. Neil Patel offers a great guide on how to properly update the existing content of your website and optimize it for high SERP positions.
Last but not least, it is crucial to understand that there are no SEO miracles. SEO demands a constant effort from your side, requiring you to regularly update both your website's content and technical aspects. The benefits, however, largely outweigh the costs, and you will soon start enjoying a stronger flow of organic visits and high-quality leads to your website!