Bluehost Review: The Best SEO Hosting
Bluehost Review
If you're looking to create a website, whether it's your first or your fifteenth, you might be wondering why Bluehost is the best choice for you. All registrars and web hosting services are not the same, and it's important you consider price, performance and the features and functions that matter most to you. Reading this Bluehost review will put you on the fast track to creating a picture perfect website and getting the most from your web host.
First Things First: What Is a Web Hosting Service?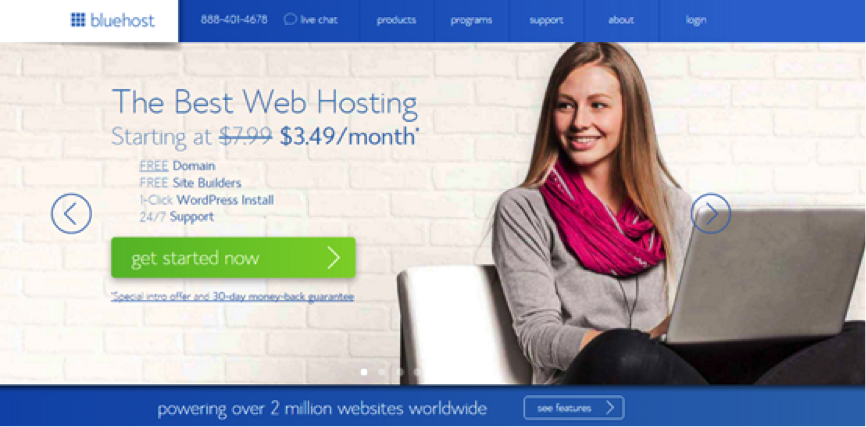 Particularly if you've never created a website, you might be unfamiliar with this term "web hosting service." A host displays your website to the world. How do they do this? A web host either owns or leases a server and allows clients space on that server for their sites. There is, of course, variation in what a web hosting service provides. For example, some provide a control panel, which is an interface that lets the user manage all aspects of the site. Others do not provide such an interface (commonly known as "headless" servers).
Web hosting services are, for most people, a necessary step in setting up a website. Unless you have your own dedicated server, it's likely you'll need one of these hosting services.
Regardless of what host you choose (Bluehost or any other), there are a few standard steps to creating a website.
Pick a Domain Name
This is going to be your website address (www.YourName.com), and it's subject to availability. That is, if someone has already picked it, you can't use the same name. A hosting service will alert you to this availability. Just make sure the name is definitely what you want. It will be your address until you decide to shut down the site or create a new one, so check (and double check) for typos.
Register the Name
Once you've found a unique domain name that you're happy with, you will register that name. This involves paying a yearly fee (typically between $10 and $35). Many hosting services offer promotional deals of one free year of domain registration. This is an annual fee, and if you're late paying, your domain name can become available to anyone to purchase. So, be timely about this payment!
Pick a Web Hosting Service
Many companies today offer hosting services, so selecting one isn't always easy. Remember, each host offers different interface, promotional deals, storage space, monthly fees, etc. Therefore, you need to be thorough in your research to pick the right one for you. We recommend Bluehost.
We readily admit that many web hosts offer similar services. For that reason, it's even more important to do your due diligence and pick the perfect choice for you. With that in mind, let's examine some of the benefits Bluehost has to offer over its competition.
Large Selection of Hosting Services
Your web hosting needs aren't always going to stay the same. As your business expands and your website requires different features (ability to handle increased traffic, decreased page load speed, etc.), you want a company that can meet your growing needs.
That's why it's smart to start with a company that offers a variety of services. Bluehost offers a number of different types of web hosting services, including:
One of the most common methods of hosting. It's where each site has its own domain, but those sites are all housed on the same server.
Pro: The most cost effective choice, relatively inexpensive.
Con: Not always sufficient for high-traffic sites
A web hosting specifically tailored to WordPress, the largest Content Management System (CMS) in the world. The hosting company performs routine maintenance, including WordPress updates and backups, to ensure your website is always up to date.
Pros: Time-saver; optimized for WordPress
Con: More expensive than some hosting options, including Shared Hosting
3. Virtual Private Server (VPS) Hosting
A kind of hybrid between Shared and Dedicated Hosting. This mimics a dedicated server, but it's within a virtual environment that is only accessible through the cloud.
Pros: Increased security, customization, control, and resources; flexible and scalable
Cons: More expensive than shared; not as many support resources
One of the least common methods of hosting, it's really only necessary when you need one or more services for only your website.
Pros: Un-compromised speed, customization and control
Cons: Typically the most expensive option; only necessary for very high-traffic and/or heavy-data sites
For 99% of companies and individuals building a website, we recommend Shared Hosting.
Bluehost Pricing Options
Bluehost offers low introductory rates, typically starting at $3.95 per month. Typically, these plans are available for twelve months, twenty-four months, or thirty-six months—with the per-month rate lowering the longer your upfront commitment.
In addition to web hosting, you'll receive a free domain name and 50% off your hosting. If we're talking about value, nothing beats the full benefits offered by Bluehost.
Bluehost Dashboard
When it comes to website management, the importance of a user-friendly interface cannot be overstated. The Bluehost Dashboard is effectively a control panel (cPanel), think of it like the command center for your website. You can build your website, manage your email and access your web files directly from the Dashboard. There are many other add-ons available to further customize your website, and we'll explore the most important features Bluehost has to offer.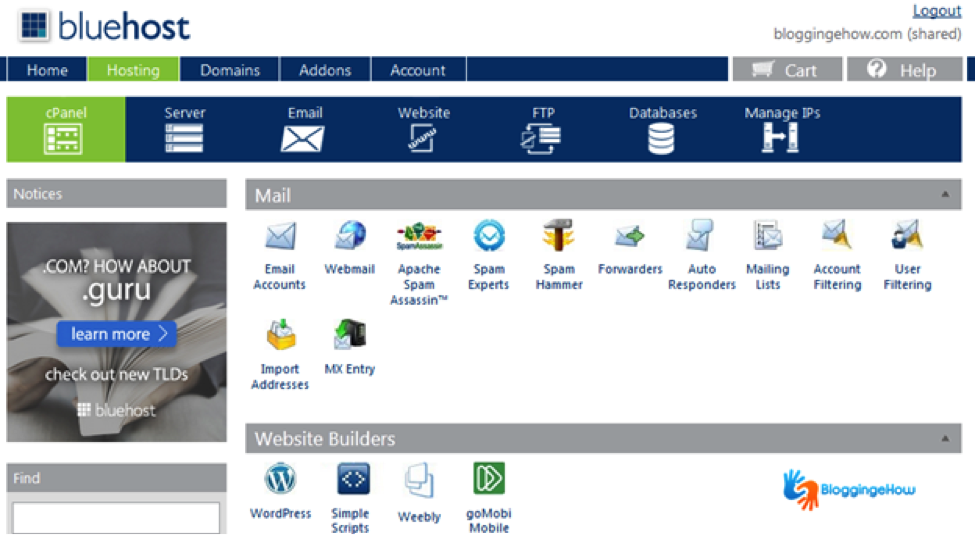 Sample Bluehost dashboard. Photo courtesy of BloggingEHow.com.
Google Apps Integration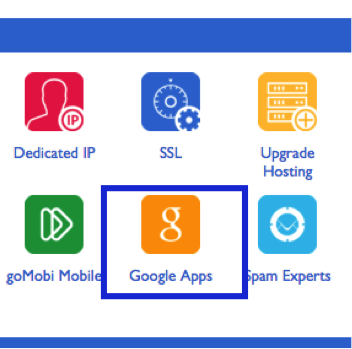 Bluehost works directly with Google, providing seamless integration with your Google accounts (Gmail, Google Calendar, etc.). So, instead of yourbusiness@gmail.com, you can brand your business as hello@yourbusiness.com. Bluehost works across all Google services, offering best in class web apps for your website, branded as your business.
Website Builders (Including Weebly)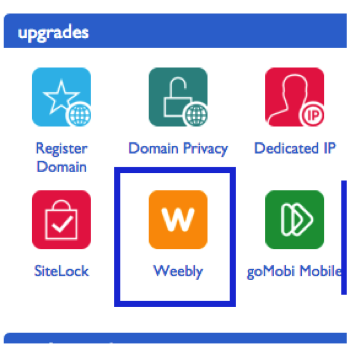 Bluehost offers a variety of website-building tools, all of which can be managed from the dashboard. (This includes the ability to upload an existing site.) If you're starting from scratch, however, Weebly is a great drag-and-drop builder. Even for tech newbies, its interface is intuitive and usable.
Search Engine Optimization (SEO) Tools
If you want to get the most out of your website in this digital age, you have to be able to track and analyze your keywords, where those keywords are ranking in major search engines, and how those rankings are changing over time. While you could go down the paid search road with your website, research shows an overwhelming preference for organic search over paid. The study by GroupM UK and Nielsen found a user clicked on an organic result (as opposed to a paid search result) 94 percent of the time! With that in mind, you want a web hosting service that provides comprehensive and effective SEO tools.
The Tools
AWStats

Bluehost offers a variety of add-ons to analyze your website's statistics. These tools allow you to track the most important SEO factors —from your most popular web pages to which search terms you're ranking for. AWStats, in particular, provides a laundry list of specific website analytics that can help you gauge how your site is doing as well as how and where you can improve. This includes, but is not limited to, number of visits (including unique visitors), visit duration, and the most-viewed pages.
SoloSEO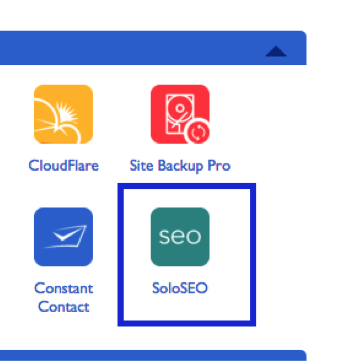 This is another tool to track your SEO campaigns. It manages keywords, reports on backlinks, and reveals individual page ranks—all from one easy to use interface.
Yext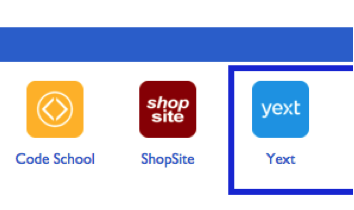 Yext is a company that gets your business on fifty-five local search directories at once. Being in these local directories can directly—and positively—influence your Google (or other search engine) rankings, especially locally. It also helps to ensure all your location-specific information is accurate and never out of date, without having to manually update those directories yourself.
Search Engine Submission
Rather than waiting for search engines to crawl your site, Bluehost offers a free search engine submission feature. In essence, Bluehost will help search engines become aware of your site faster. This is especially helpful if your site is new and not likely to be crawled for quite some time.
SEO Marketing
If you want someone to handle your SEO or simply in need of some extra professional guidance, Bluehost offers multiple SEO marketing packages. Some benefits include:
A personal marketing program manager to answer questions and receive your input.
Recommended keyword list for your site and/or industry.
Off-site link building through social media bookmarks and article distribution.
Unique monthly blog posts that incorporate targeted keywords.
Weekly tracking reports to inform you about search engine placement (on Google, Bing, and Yahoo).
The DIY tools are great, but it's nice to have a helping hand as well.
Bluehost & WordPress Specialty
One of Bluehost's biggest draws is its unique relationship with WordPress. WordPress is a Content Management System, or (CMS)—a computer application that allows its users to edit, delete, organize, and publish content without any technical know-how. However, WordPress is not just any CMS, it's the biggest and arguably most powerful CMS available to users today. Some features include:
Thousands of visual themes.
Thousands of plugins (website add-ons that increase a site's functionality).
Constant updates in order to stay the most cutting-edge CMS.
And the best part? It's free!
If you're interested in creating a WordPress site, consider Bluehost for your hosting needs, as they are especially experienced and uniquely positioned to handle hosting a WordPress website. Don't believe us? Check this out!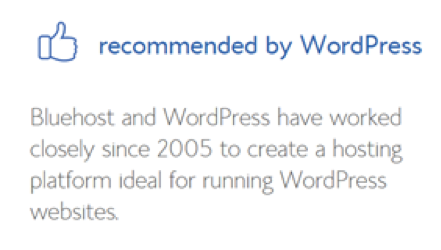 Bluehost has earned WordPress's official endorsement. So, if you're interested in a WordPress site (Yes, WordPress offers a lot more than just blogs), Bluehost is likely to be one of the best choices to get your website up and running, quickly.
One-Click WordPress Installation
By partnering with MOJO Marketplace, Bluehost offers one-click WordPress installation. This not only simplifies the process of getting your website up and running, it also significantly decreases the time required. This means you can have a functioning and live site in less than 10 minutes.
Bluehost Customer Service
Customer service is an important part of any hosting company. If you're new to websites, having people on hand with technical expertise can be invaluable. However, even if you're already technologically savvy, lots of things can go unexpectedly wrong with websites. From error pages to crashed sites to unforeseen problems with updates, you want to make sure you have unlimited access to your company's service lines.
Bluehost offers (by phone or live chat) sales consultations, technical support, and account management. If you suspect a global issue with the Bluehost servers, you can run a server status check at any time. There are even help tickets to write to Bluehost.
All of this means, no matter the day or time, you'll have access to the support you need.
One special feature of Bluehost's support system is the comprehensive searchable database. Try searching this database or even consulting Bluehost's YouTube channel), you'll find video tutorials, how-tos, and articles on just about any hosting-related topic you can think of.
Perks, Extras, and Freebies
Web hosting is an extremely competitive field. So, to stay at the top of the game, Bluehost offers a variety of incentives and extras to get (and keep) its customers interested. We mentioned some of these earlier, but some of the extra Bluehost benefits include:
Free domain (credited after signing up)
Free site builder
Money-back guarantee (available anytime and includes prorated refund)
Bluehost also offers free advertising with Google AdWords and Bing.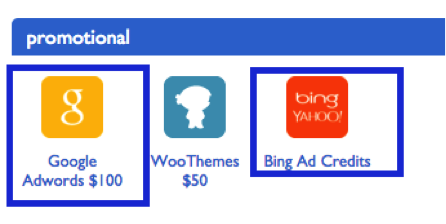 If you spend $25 on Google AdWords then you'll receive a $100 advertising credit. You automatically receive $50 from Bing/Yahoo just by being a Bluehost customer. These promotions are a great risk-free way to test out paid marketing.
Competitors
To be fair, Bluehost has competitors and the following are some of pros and cons of the other contenders.
Pros

Cheap
Unlimited bandwidth
WordPress auto install
Limited downtime

Cons

Limited disk space and databases (hinders the number of sites you can host on one account)
Large corporation and associated downsides of that (e.g., foreign call centers)
Difficult to leave or transfer site
Focuses heavily on up-selling
Pros

Very cheap introductory rates, competitive prices after twelve months
Twenty-four-hour phone lines for customer support
Ample memory to run site

Cons

Outsourced customer support
Highly technical options easy to find; basic low-tech features hidden
Users report many "Form Submission Failed" error messages
Pros

Cheap domain names (especially if you're looking to have your site for more than one year)
Straightforward checkout process
Free e-mail forwarding

Cons

Lacks phone support
WHOIS Privacy only free for one year
Speciality is domains rather than hosting
Conclusion
So, what's the best fit for you? It really depends on your needs. Remember, though, Bluehost is one of the largest web hosting services available, so you get the benefit of all the resources and experience a company of that size can provide. Adding in its specialty in WordPress (including the one-click installation), a variety of SEO analytics tools, 24/7 customer support, and more, Bluehost has already proven the best choice for several million sites.
If you think they might be a good fit for you too, check out Bluehost site and you can always leave a question in the comments section below.
Full Disclosure: When you purchase using our referral link, at no additional cost to you, we will receive a small commission. We would get this referral fee for recommending just about any other company, but we only recommend products that we personally use and/or believe will add value to our readers. Bluehost is one of them!