Discovering Value in Your Product Integration Partnerships
Are you trying to market a new product or service as a small, or relatively unknown brand? Good luck.
Converting a cold audience is a tough ask—usually costing you time, money, and aggravation (aka hair follicles).
But what if you were to incorporate your product into a brand that's already established? Or better yet, allow another product's unique features to complement your product?
This is the idea behind product integration partnerships. If done correctly, these integrations can greatly enhance your product, improve the user experience, and result in more sales.
Leveraging the power of another brand's products and services to improve your own is a fine idea, but how do you find the right brand to achieve the best results?
That's a little trickier.
Successful partnerships are built through understanding your audience, launching an effective outreach campaign, measuring your customers' response, and finally, reassessing your strategy…
Let's break these down…
1. Understand Your Audience
Don't be afraid to get critical for a second. As great as your product might be, there's surely an aspect of it that can be improved upon, making it more marketable to your consumers.
Figuring out what improvements could make your product better and enhance the user experience is the first step towards choosing a product for the integration partnership (more on that later).
Sometimes the best approach is to ask your customers directly. This can be done through the use of surveys and questionnaires placed into your email campaigns, targeting customers who recently purchased your product for feedback.
Here's an example of a great survey request from B2B company Headspace…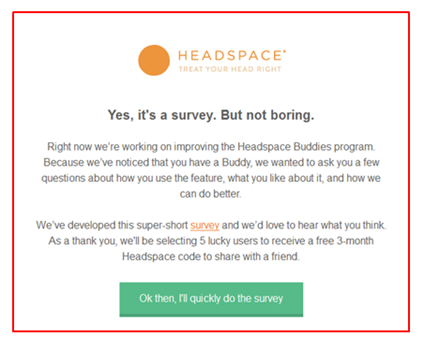 The self-awareness of the headline copy here is amazing! Yes, surveys are generally boring to most people. So why not acknowledge the elephant in the room? They also do a great job of emphasizing the fact that it's a "super-short" survey, and even affirm this point again in their button text.
Or you can go the more formal route, treating the email like a letter—complete with a signature at the bottom. Take this example from Eventbrite…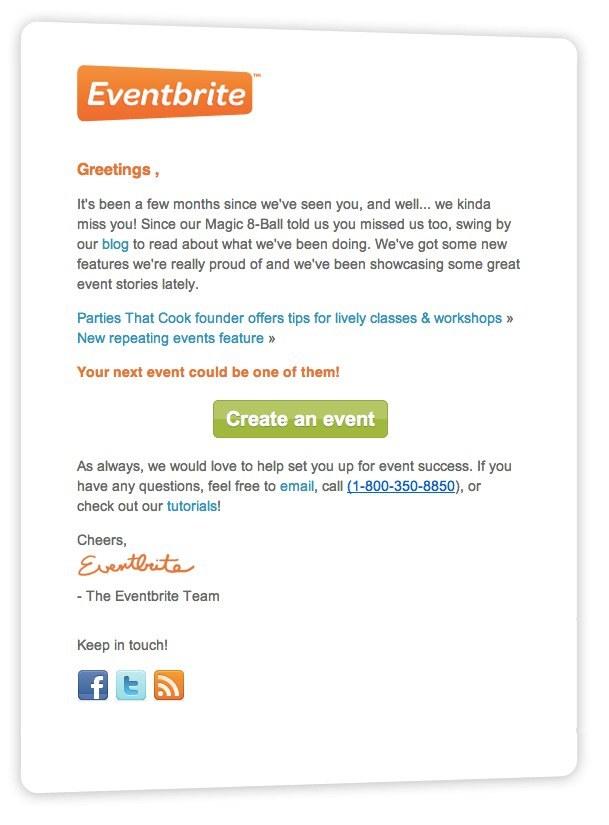 Whatever angle you decide to take in your emails, their effectiveness comes down to you writing good, persuasive copy.
There's also the idea of offering up incentives for their input (ie discounts or promotional offers). Studies show that 28% of consumers would like to receive promotional emails more than once per week. So, you might as well send them a promo AND capture their opinion on your product at the same time, right?
Email campaigns aren't the only way to connect with your audience. Social media is another great avenue for crowdsourcing product integration ideas.
Whether you have a Facebook page, Instagram, or Twitter account, you want to leverage your presence to get useful feedback from your followers (aka customers). Assuming you engage with them on a regular basis—posting multiple times per day on each platform and responding to comments—it should be pretty easy to get their input.
Feel free to get as direct as you want. You can ask explicitly, "How can we improve our next product?" Or you can get more creative by making videos, using Instagram stories, and posting poll questions to your various pages and social media groups. Users like this sense of collaboration with a brand, and it can lead to actionable information for you!
Additionally, don't be afraid to ask them about how they'd like to see your product integrated into other products (or brands) they enjoy using. This is a strategy we see a lot with creative types—i.e. photographers, bands, actors, and athletes. One example of this happened around 2008 with Nikon.
The gigantic camera brand teamed up with New York City photographer Chase Jarvis to let him demo their F90. He ended up producing an extremely professional YouTube video that demonstrated the camera's merit to professionals of all levels.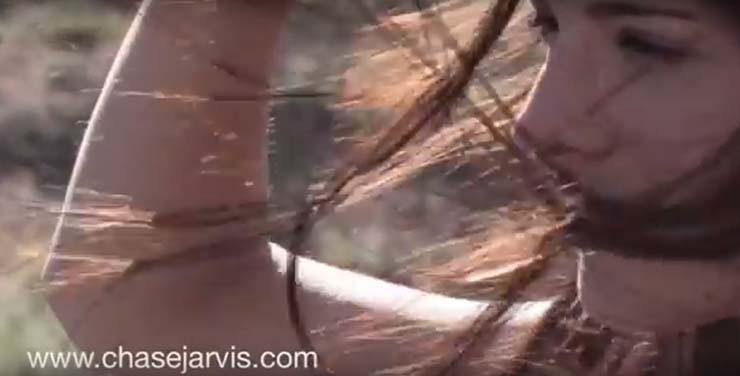 Regardless of whether you're seeking to integrate your product into another brand's product, or vice versa, you have to give your customers what they want.
Once you've collected enough data about your customers' pain points, suggestions for improvement, and constructive criticisms, you'll want to start visualizing where the integration could be made possible.
Steven R. Jones, VP of Product Development at project44, discusses using a graphical model that highlights possible integration points along the customer journey.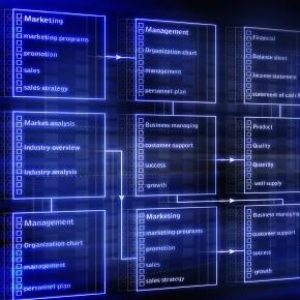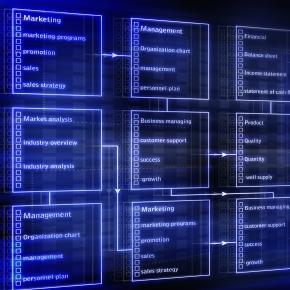 This diagram looks out of a scene from The Matrix, but not to worry. You can plot out a much more simplified journey if you'd like. The key here is that you're starting to consider possible applications where an integration would make the most sense.
With that in mind, let's move on to outreach.
2. Launch an Effective Outreach Campaign
Once you've identified the right type of product integration, it's time to begin your outreach campaign. But contacting businesses can be scary, due to the R-word we all hate… rejection. So it's important to research every brand that produces a product you could integrate with, in order to increase your possibilities.
Plus you never know, you might just strike gold in your first attempt at outreach. Take Formstack as an example…
In 2011, they teamed up with email marketing giant Constant Contact to allow Formstack users to automatically add or update subscribers in their Constant Contact email marketing lists through one of their forms. In this case, Formstack knew EXACTLY what they wanted from a product integration partnership and they went out to get it
The result was a win-win. Formstack saw a huge spike in signups from Constant Contact users who liked their features, and Constant Contact made another important stride in making their product better.
Okay, the Formstack/Constant Contact example is a bit pie in the sky for most brands looking at product integration partnerships. It's usually not that easy or straightforward. Oftentimes, you'll need to reach out to many brands in order to find one that's interested.
There are many tools to help you streamline the outreach process, but here are a couple of the best…
Pitchbox is quickly rising up the ranks of top influencer outreach tools. It isn't free ($195/mo for basic plan) but it can literally save you precious hours of typing up emails. The magic of Pitchbox is that you can create a single email template and send it out to hundreds of recipients. This is ideal for any large-scale outreach project, especially for link building, but it could also work when you have several possibilities in mind for your product integration partnership. It also performs the arduous task of unearthing contact information for the websites you'd like to email.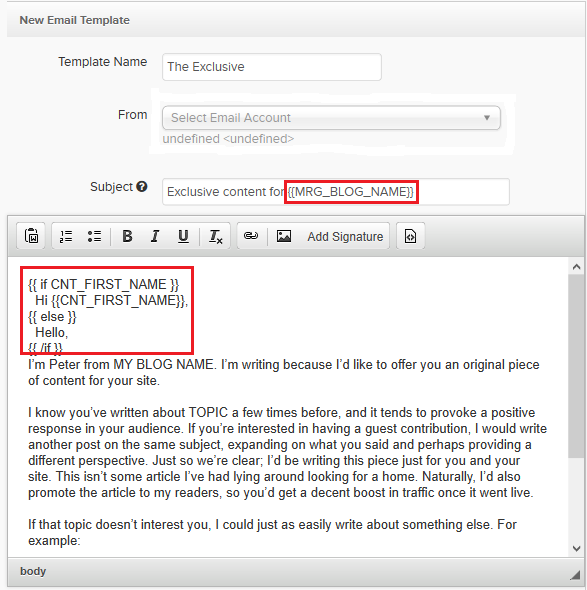 Bottom line? Pitchbox makes your outreach process a whole lot easier by cutting out the busy work. And the software is backed by some of the biggest names in online marketing, including Backlinko's Brian Dean.
Buzzstream is really quite similar to Pitchbox, only it lets you store tons of social media profiles, link building profiles, and specific blogger information into your account for future use.
If you already have a number of websites in mind for outreach, you can simply upload them into the platform and Buzzstream will help you find important information, including contact info and traffic data.
3. The Art of the Follow-Up
There's nothing more discouraging than reaching out to a brand we really want to work with, only to hear nothing in response. This is why following up on your outreach is such a valuable step to take.
Julie Joyce writes a useful piece on this topic in Search Engine Land, where she expresses the need for outreachers to strike a balance between too many follow-ups and too few. In other words, if you bombard your recipient with emails then, quite frankly, you're being a pest; conversely, too few emails makes you appear somewhat lazy.
So, strike a balance…
Maybe you send them two emails within a one month period, followed by a single tweet on Twitter—just to check whether the recipient got your previous emails. Just don't overdo it.
The most important aspect to your outreach is to value quality over quantity, targeting the right brands to help your brand flourish and grow.
4. Measure the Response
Now, let's assume you've found the right brand for your product integration partnership and have successfully integrated your product.
First of all, congratulations! But don't bust out the confetti just yet…
It's time to measure your customers' responses to the integration and collect feedback. You want to see that a) they are actually making use of it, and b) it's improving the user experience rather than hindering it.
Free Trial to Paid Account
One of the most effective methods that leads to conversions is the age old freebie. You offer integration users a "free trial" or "free plan" of your product, with the hope that they'll eventually become purchasers. Of course, if these users aren't converting at a high enough rate, it might be time to make subtle tweaks to your interface.
You can reach your customers using the same mechanisms we discussed earlier—through email and social media. Only this time you'll be seeking their post-integration feedback.
One of the best ways to gather this information is by utilizing a feedback form.
We're bringing up Formstack again because they have awesome feedback form templates complete with a product ratings system. You can create a form in minutes that asks all of the questions you need answered. Even their least expensive plan ($39/mo) provides tremendous value, letting you create up to 20 forms with 1,000 submissions each.
Reassessing Your Strategy
After you've tried the integration and gathered feedback from your customers, it's time to link back up with your partner to discuss the next steps.
"Are things working out great for both parties? Fantastic! But how can we continue to improve the integration?"… that's one possible conversation you'd have.
Another would be… "I just don't see this working out. Our customers aren't responding the way we'd like them to, and we need to examine other avenues."
That's why the upfront phases are so vital to a successful product integration partnership. If you spend a little extra time to determine what your audience wants, you'll have a much better chance of making them happy.